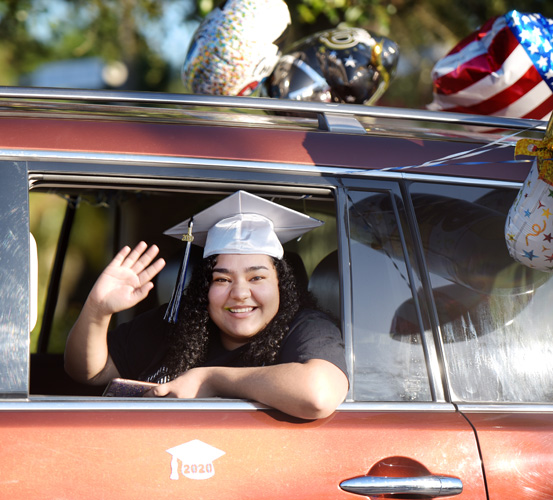 INDIAN RIVER COUNTY — Senior classes will come together one last time – while also social distancing – for traditional graduations in the morning before drive-thru graduations in the afternoon, school officials said.
The 9 a.m. morning graduations – which only seniors can attend – will be held July 10 at Vero Beach High School and July 11 at Sebastian River High School, Schools Superintendent David Moore said in a Friday Facebook update. The traditional ceremonies will be held at the schools' football stadiums and live-streamed.
"We figured why not bring together the senior class one last time," Moore said. "They have not been together as one since March 13."
Schools in Florida have been closed since March 16 because of the coronavirus pandemic. Campuses resorted to distance learning – or virtual learning – the last few months of the academic school year.
Schools across the state plan to reopen in the fall with social distancing and increased cleaning guidelines. The School District of Indian River County was among several districts to make changes to graduation plans for high school seniors to ensure safety of students and families.
Seniors at Vero Beach and Sebastian River high schools will have the chance to listen to speeches from classmates and principals at the traditional graduations. Schools asked the seniors to come back with their families and other guests at 5 p.m. for the drive-thru graduations, which will also be live-streamed.
Moore said the drive-thru graduation alternative ensures the safety of students, their families and other guests. The drive-thru ceremony for Vero Beach High School will be held at the football stadium, while the drive-thru program for Sebastian River High School will be held in front of the campus.
"We believe this is the best option that works," Moore said. "Does it make everybody happy? No. Does it keep everyone safe and in a controlled environment? Yes."
Families will be able to drive their seniors to the schools.
"We will have seniors exit the cars, walk across the stage, greet principals, get their diplomas and exit the stage," Moore previously said.
Vero Beach High School has 681 graduating seniors. Sebastian River High School has 418 graduating seniors, officials said. The graduation dates were originally scheduled for May 15 and May 16, but were then pushed back to June, and then July.
The school district was expected to release additional information Monday.