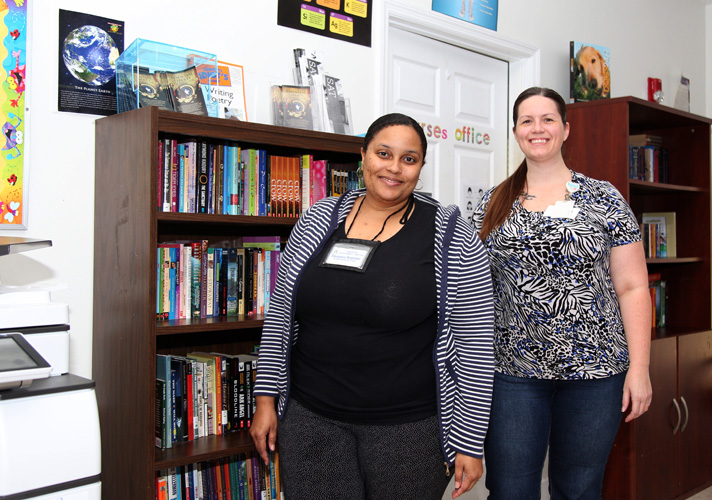 Even before the coronavirus pandemic turned the world upside down, life was already difficult for the residents of the Hibiscus Children's Village. The Vero Beach facility provides a safe home environment for abused, abandoned and neglected youth ranging in age from 13 through 17, when they age out of the system.
When the stay-at-home edict was enacted – meaning no one but staff or residents were allowed on campus – staff had to expand their 24/7 'parental' duties even further.
"The Village has done such a great job taking care of the youth during this pandemic," said Tracy Savoia, HCC vice president of marketing and media relations.
"They have taken care of their educational needs while all the kids are out of school. That's a huge area because our kids already have academic challenges. Of course, safety is always paramount to what we do, so we're following all the protocols. And then the activities; taking care of all these teens, keeping them busy, keeping them on structured schedules."
When schools closed, the Indian River County School District provided laptops for each individual student, and True Price, education liaison with the school district, began leading the virtual education process with assistance from Frank Avilla, Career Pathways director.
"School takes place on our campus from 8 a.m. to 1 p.m. every day," said Avilla. "Miss True goes into each house on a daily basis. She's literally like the rooster checking in to make sure that these kids are doing academics. She has been dogged in her efforts to ensure academics are going on Monday through Friday during that time frame."
Each of the six houses on campus can accommodate up to six teens, and each has a house parent to monitor things as well.
"I have to be honest; it is showing in the kids' grades," said Avilla. He attributed it to such factors as some workloads not being quite as intense as in the classroom, fewer distractions and better attendance. "It's basically, 'Open your laptop and let's get busy.' We know that kids are doing some academics on a daily basis, whatever their skill level or age level is."
"It's very eye-opening for the kids too, because some of them wanted to be homeschooled, they didn't want to go to school, but they're noticing how hard it is," added Sheryl Overcash, assistant program director. "Now they want to go back to school."
"They miss the socialization that they were able to get at school," said Rey Navarro, director of operations at the Village.
All are rightly proud of the three high school seniors who graduated from school this year.
"One has already been accepted to Florida State University and will be going in August. Another I believe is going to IRSC to start; she wants to be in the medical field. All graduated with good grades, real good grades," said Avilla.
Three master level clinical therapists have been kept busy providing weekly individual and group sessions.
"They have also provided supportive counseling through this crisis that we are going through," said Navarro, noting that even family interactions have to take place virtually. "The kids have been here on campus the whole time, so they require a little bit more attention, and the therapists have been on top of that as well."
The school district has been providing meals – breakfasts and lunches delivered by the Mobile Cafe, and dinners picked up at Vero Beach Elementary School. Individuals and area restaurants have also donated meals and various other items.
With regular afterschool sports and activities curtailed, staff devised ways to keep everyone busy on campus – a talent show, arts and crafts, indoor and outdoor games and even theater-style movie nights. Activities are broken into small groups, with everyone wearing face masks and maintaining social distancing as much as possible.
Career Pathways also assists teens with job skills and career training, and helps them obtain internships at local businesses. While a few off-campus internships continued at area restaurants, most were curtailed.
Avilla has been encouraging the older teens to at least begin applying for positions as businesses start to reopen, so they may obtain application and interview skills before they have to leave the Village.
They encourage businesses to reach out to them if they are interested in allowing a young person to intern at their workplace a few hours a week so that they may gain work experience. Teens run the full gamut in terms of career interests, from doctors, lawyers and bankers, to hairdressers, restaurant staff and retail shop clerks.
"They don't pay them; they just train them to work," said Avilla. "Through Career Pathways, we're able to pay them a small stipend to work."
One very popular program put on hold until visitors can return to campus was the Culinary Program, led by Chef Leanne Kelleher of The Tides. Avilla said he ran into her the other day and that she is as eager as they are to start it back up.
When will that be?
"We have a weekly coronavirus update meeting. It's going to be a decision we make as a team based on recommendations from the government," said Navarro, who hopes that volunteers can return to campus in June.
As of now, there have been no cases of children or staff contracting the virus at the Village or the Hibiscus Children's Center in Jensen Beach, which cares for younger children.
"I feel like we need to continue to be extremely cautious," said Avilla. "It doesn't take much for the number of cases to explode, but we have been very fortunate."
"Right now we're waiting to see if some of the kids will be doing virtual summer school," said Navarro. "The ones that are not, we are planning to do our eight-week summer camp, but we're very limited now with outside activities. Miss True, our education liaison, is in the process of researching what is opening up and what are the restrictions so we can plan accordingly."
"With all that is going on, we still have kids that are getting older and about to turn 18 years old, so we have to try to find them appropriate housing," said Avilla. "So instead of taking them on a tour of Children's Home Society's Youth Transition Center, we might have to do a virtual tour. College tours are usually a part of our summer camp program, but I can't get my kids off campus to any colleges at this point, so that's on hold. Short of visiting any of these colleges, maybe we can do something virtually as well."
"It's challenging enough for people in their regular homes, so we really wanted to get the word out about the great job the staff is doing," said Savoia. "And that we're also addressing the kids' mental health; the stress, the fear, issues with their families. There's still a lot in these kids' lives going on while we're living in this whole challenging time."
For more information, visit HibiscusChildrensCenter.org.
Photos by: Kaila Jones
Click HERE to see more or buy photos