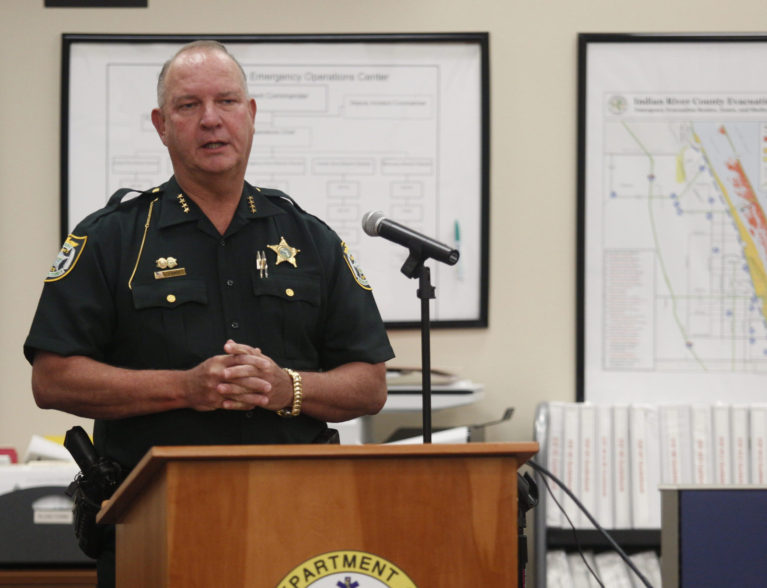 INDIAN RIVER COUNTY — A sheriff's deputy and 911 dispatcher are back to work after testing negative for coronavirus, Indian River County Sheriff Deryl Loar said Friday.
The two employees were self-isolating before receiving the results, Loar said. Loar spoke about the results Friday at a news conference at the Indian River County Emergency Operations Center.
"That makes us very happy they were able to self-quarantine and get the rest they needed," Loar said as part of the weekly briefings on coronavirus' impact in Indian River County.
Loar said deputies at the sheriff's office, who have personal protection equipment including masks and gloves, are being monitored for possible virus symptoms. Loar said employees and inmates temperatures are taken before they go into the county jail.
Loar also noted the inmate population at the county jail decreased from 529 to 486. Officials did not say whether the decrease was related to social distancing restrictions from coronavirus.
The inmate capacity at the Indian River County Jail is 711 people, Loar said. Loar said no inmates at the jail have tested positive for coronavirus.
Loar does note that social distancing appears to be effective in the community.
"Most of you are staying home, except for a few bad apples," Loar said. "Please be patient with us. I'm very proud of our community for sticking together and staying home."
But, Loar also noted the county continues to see an increase in crimes such as domestic violence, trespassing, loitering and behavioral incidents in the evening hours. Loar said deputies have received several reports of shoplifting incidents at the Walmart Supercenter in Vero Beach and also responded to a "few" fights over supplies at small stores.
"We are busy, extremely busy," Loar said.