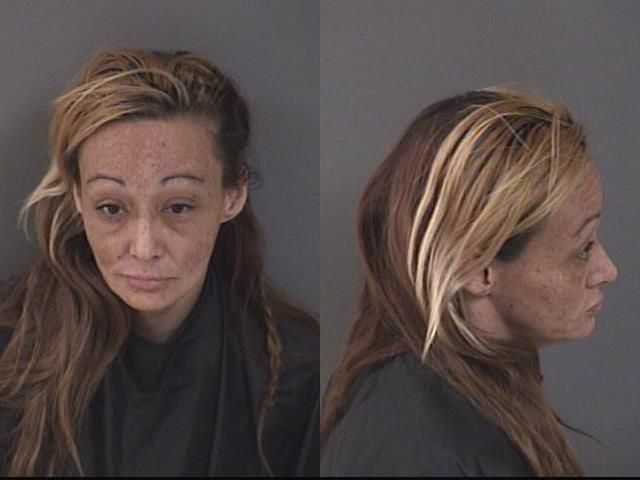 INDIAN RIVER COUNTY — A Vero Beach woman stabbed her 81-year-old adoptive mother and hid the body in a blanket after the two got into a heated argument at their home, reports show.
The body of the mother, Carmelina Kohler, was found hidden underneath boxes and a blanket in the garage Tuesday morning, court records show. The discovery happened hours after deputies questioned her daughter, Crystal, Monday night.
Deputies filed a first-degree murder charge against Crystal Kohler, of the 1000 block of Amethyst Drive, Vero Beach. Kohler, 38, wore a jail jumpsuit and had a calm demeanor as the judge read the charges against her Wednesday during her first court appearance.
Deputies have not publicly released many details regarding the circumstances of the death of Carmelina Kohler. But, an arrest report shows the mother and daughter got into an argument and a fight while moving boxes before Carmelina Kohler was killed.
The report indicated that Crystal Kohler was being "kicked out" of the residence at the time of the incident. An incident report showed Crystal Kohler, who had recently moved back into the home, was having issues with her parents after they accused her of stealing and lying.
Crystal Kohler's father told deputies the woman was struggling with "drug addiction," reports show.
Crystal Kohler was held Wednesday at the Indian River County Jail without bond. Kohler was previously charged with grand theft auto and driving with a suspended license after she was detained late Monday.
A first-degree Murder charge has been filed against Crystal Kohler after her adoptive mother, Carmelina, was found dead this week in an apparent homicide. Her arraignment is set for 8:45 a.m. May 1. #VeroNews pic.twitter.com/VIJPvmV9UH

— Nicholas Samuel (@JournalistNickS) March 11, 2020
Crystal Kohler, who also goes by Crystal Williams, was ordered to not have contact with the family of Carmelina Kohler.
"Our thoughts and prayers go out to Carmelina Kohler's family," Indian River County Sheriff Deryl Loar said in a Tuesday news conference. "It's an unfortunate situation. An 81-year-old person does not deserve to have their life ended like this."
An autopsy was scheduled for Wednesday morning.
What happened
Deputies said Carmelina Kohler was reported missing Monday, while Crystal Kohler was listed as a person of interest wanted for questioning. Carmelina Kohler's husband last saw her about 11 a.m. that day after he left his home for a medical appointment, reports show.
The husband said Crystal and Carmelina Kohler had a 2 p.m. appointment at a nail salon at 12th Street and U.S. 1. When the husband returned home, he saw Crystal, but did not see Carmelina, reports show.
Crystal told the man that Carmelina sent her home to change clothes "because she looked like a bum," officials said. The husband said Crystal Kohler then left the home in his 2018 Chrysler Pacifica van and never came back, reports show.
The husband "assumed" Crystal Kohler was going to meet her mother at the nail salon, officials said. Deputies said the husband thought it was unusual that Crystal Kohler was driving the van, since his wife usually uses the vehicle.
Deputies said Carmelina Kohler's phone was found about 8 p.m. Monday near 27th Avenue and Aviation Boulevard. Carmelina Kohler's husband told deputies there would be no reason for Carmelina to be in that area.
The husband, growing suspicious, then called law enforcement to report Carmelina was missing.
Soon after, deputies issued a public alert to search for Crystal and Carmelina Kohler. Carmelina's husband reported his van was stolen.
Crystal Kohler's ex-boyfriend told deputies the woman stopped by his home about 4:30 p.m. unannounced. The man asked Crystal Kohler – who was distraught – what was wrong and she replied "the less he knew the better," reports show.
The man said he and Crystal Kohler went to Walmart, where he gave her $120. The man learned Crystal Kohler was planning to leave town on a Greyhound bus, possibly to Tennessee, reports show.
Crystal Kohler then drove to a marina in Fort Pierce. Deputies found the woman, along with the stolen van, in a parking garage, reports show.
The Confession
Late Monday, deputies questioned Crystal Kohler, who initially declined to give further details about Carmelina's disappearance. Deputies then arrested the woman for taking her father's vehicle, plus other charges.
Early Tuesday, deputies again spoke with Crystal Kohler, who then admitted she was responsible for her mother's death.
Officers said Crystal Kohler had cocaine in her purse after they questioned her, though a drug charge has not yet appeared on her booking information.
Crystal Kohler said she was helping Carmelina move boxes when Carmelina made a comment that made her furious. The woman said she and her mother fought for a few minutes, but did not elaborate on how she killed her, reports show.
Deputies then went to the home about 10 a.m. Tuesday and found Carmelina Kohler's body, officials said. Deputies said the woman appeared to have stab wounds to her abdomen and neck, reports show.
It was unclear if the murder weapon was recovered.
Loar noted Crystal Kohler has previous arrests, including four felonies. Loar said Carmelina Kohler has two other adult children – a daughter and a son.
Deputies believe other people might have more information about the incident. Anyone who has additional details about the homicide should call sheriff's Detective Rebecca Hurley at 772-978-6240.
Neighbor reacts
The Kohlers live in a two-story home in the Diamond Lakes subdivision in south county. A check of social media shows Carmelina Kohler was family-oriented and involved in the community.
A neighbor in the tree-lined community said he was at work when Carmelina was reported missing. The neighbor, who declined to give his name, said he heard about the homicide through the news.
The neighbor declined to further comment. This is the second homicide to happen in the county so far this year.
Deputies released these images while they were searching for Carmelina and Crystal Kohler.