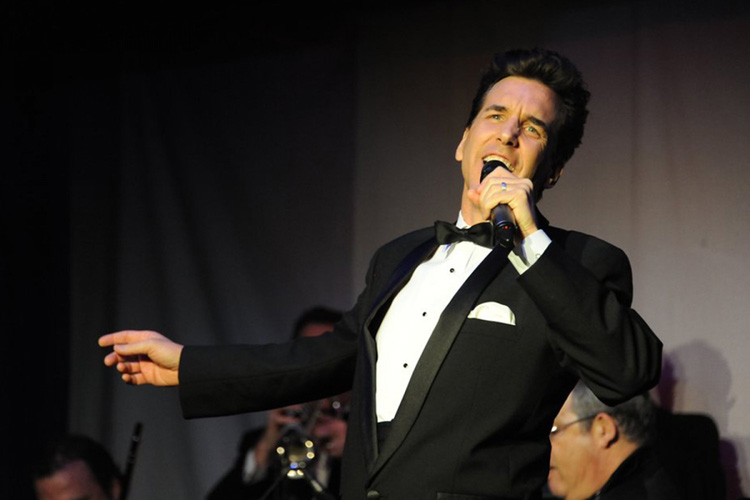 Valentine's Day is still a week away, but you can start the romance early by taking in some of the exciting and romantic offerings of the cultural community.
The top of the list goes to the "Sinatra Valentine Pops Concert" featuring acclaimed vocalist Michael Andrew performing with the Brevard Symphony Orchestra. Andrew has made a solid national reputation for excellence in the swing and Sinatra songbooks. And the BSO, led by Maestro Christopher Confessore, always brings wonderful exuberance to a pops concert. The concert is brought to Vero Beach by the Indian River Symphonic Association. It begins at 7:30 p.m. this Friday, Feb. 7, at the Community Church of Vero Beach, 1901 23rd St. Single tickets are $65. Call 772-778-1070 or visit IRSymphonic.org.
Set the stage for romance and help others at the same time at the "Healing Hearts Exchange Dinner and Dance" Saturday evening. Presented by the Exchange Club of the Treasure Coast, the dinner features a bounteous buffet of seafood, carved prime rib and carved pork loin. There's also a cash bar. Tickets are $125, with funds helping local child abuse prevention programs. It begins 6:30 p.m. Feb. 8 at the Indian River Club, 800 Carolina Circle, SW Vero Beach. Call 772-584-1087 or visit TCExchangeClub.org.
Plan ahead for two concerts next Thursday, Feb. 13. The Vero Beach Museum of Art presents quartet jazz with percussionist Fred Goodnight and pianist Mike Telesmanick, outdoors from 5 p.m. to 7 p.m. Bring your own chair, and some money because there will be cash bars and food concessions. Rain or moonlight. The museum is at 3001 Riverside Park Dr., Vero Beach. Call 772-231-0707 or visit VBMuseum.org. The Indian River Symphonic association presents the Russian State Symphony Orchestra with pianist Polina Osetinskaya, 7:30 p.m. at Community Church of VB. Call 772-778-1070.
Here's a nice dichotomy to dust off the gray matter: Exploring multiculturalism one day and questioning it the next. The Kane Center will present "Multiculturalism in Music" 2 p.m. this Sunday, Feb. 9, at 900 SE Salerno Road, Stuart; tickets are $10, call 772-223-7800 or visit KaneCenter.org. On Monday, Feb. 10, the Riverside Theatre Distinguished Lecturer Series will present prize-winning author Heather MacDonald, who wrote "The Diversity Delusion," at 4 p.m. and 6 p.m. Tickets to the lecture are $100, but are sold out. However, you can get on a waiting list. The lectures have become so popular that they are held in the large Stark Stage auditorium and also simulcast in the Waxlax Stage auditorium. Call 772-231-6990 or visit RiversideTheatre.com.
The Sebastian Art Studio Tour offers up a self-guided exploration of the studios of 10 artists, all working in a variety of media. The event runs 10 a.m. to 5 p.m. this Saturday, Feb. 8, in various galleries. You can begin at the studio of Sheila Lougheed and Suze Lavender, 166 Dickens Ave., Sebastian. From there, you can head west or north. For a detailed map, visit http://sebastianartstudiotour.com/2019-tour-map.