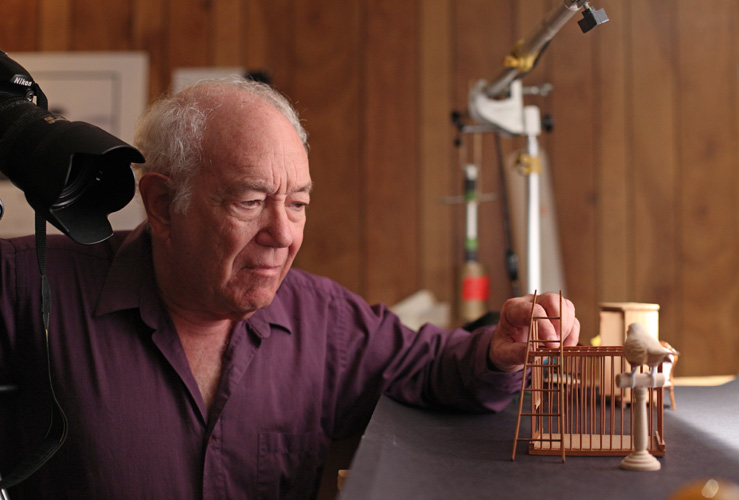 The old and new, the untried and the true, from the oeuvre of photographer Allan Teger, a Moorings resident, debuts at the Center for Spiritual Care this Friday, Dec. 6, with a special reception for the artist from 5 p.m. to 7 p.m.
Titled "Metaphor: Photo Poems," Teger's exhibition contains none of his Bodyscapes, the black and white photographic figure studies for which he is best known. Those close-up studies of nude female torsi that support strategically-placed miniature landscape elements have, Teger asserts, decoyed many an art fair-goer into his booth on the mistaken assumption that what was being presented were pictures of desert dunes, lofty Everests or water-filled oases, instead of buttocks, breasts and belly buttons.
Teger's argument that things can be made to have interchangeable meanings goes back 40 years, to the beginnings of his Bodyscapes series (his human forms, sans heads, arms and legs are deliberately objectified). A Boston Globe overview of May 4, 1980, art events described Teger's Bodyscapes as "an affirmation of Teger's belief that many different realities are equally valid – and we can, in fact, move back and forth between multiple realities."
Back then Teger, who holds a Ph.D. in psychology from the State University of New York, Buffalo, was an associate professor at Boston University. He has long since left the academic life for that of the professional artist, winning top honors for his figural photography in major arts festivals in Florida and in group shows in other parts of the U.S., including the Sin City Gallery in Las Vegas and the Seattle Erotic Art Festival.
His photos have been published in print magazines and in books in Germany, Russia, Hungary, Norway, Italy, Spain, France, England, Indonesia, Malaysia, South Korea, China and Brazil, among other countries. Since about 2008, references to Teger's Bodyscapes on the Internet are legion.
Despite his success with that series, decades of photographing titillating topographies have produced in the artist a yen to compose photographic arrangements in which the human figure is not present, but is implied by inanimate objects alone.
"I've got a lot of stuff from the Bodyscapes," he says. "Miniature trees and things like that."
Teger's collection also holds finely detailed doll house furnishings – a Queen Anne dining table, a comfy leather lounge chair and a mission-style lamp table, among others – as well as bibelots he has collected in his travels.
While the disembodied photos in Teger's "Photo Poems" exhibition may be new to gallery-goers, the gelatin silver prints in the show date from as early as 1996. The color images on display were shot this summer in Teger's Ohio studio.
The oldest works on display are unique prints (Teger identifies them as artist's proofs) that address the end of a marriage. Teger was at the time going through a divorce, and the works "Dynamic Equilibrium," "The Impasse" and "The Relationship" contemplate a situation that is tenuously balanced, if not completely out of whack.
With the exception of one work, all are single images printed on a piece of photographic paper about twice the size of the image, which appears at the top half of the paper. The bottom half holds a descriptive phrase or title, which was exposed onto the same piece of photo-sensitive paper by sweeping a penlight above it through a transparency bearing the typeset words in dense black. The result is a minor miracle of darkroom printing: a seamless photo image under which a caption appears in sharply outlined white letters against an ambiguous patch of grey fog.
As clever as the mixed printing of image and words is in this small series, Teger's theatrical imagery speaks for itself, without subtitles. "Dynamic Equilibrium," for instance, presents the viewer with a four-poster bed whose mattress supports a spinning gyroscope.
"The Impasse" shows us a simple wood kitchen table with an hourglass at its center; two chairs on either side of the table are half-buried under conical piles of pebbly sand.
The only multiple image in the show is "The Relationship," a sequence of three photographs positioned one atop the other. The top photo shows the same kitchen table and two chairs in a dark, depthless setting; the second one shows the chair at our right, as though frozen into a block of ice. In the final photo, flames leap from the chair at left in idiomatic dialog with its icy companion.
If this series reminds you of Duane Michaels, whose nine-photo series "Things are Queer" of 1973 used doll furniture and sequential photography to make a point about the unreliability of truth as seen through the camera's eye, you are right on the money.
"Duane Michaels spoke at Boston when I was there; in 1995 or so. I was impressed by him. I have always liked his work," says Teger, who recalls Michaels encouraging his listeners to "Tell the truth – some of it will be beautiful."
Teger says that his photographic career has been spent creating images that promote divergent impressions of reality.
"It was always about perception, always about playing with reality; it was never about dollhouse toys or naked women or any of that stuff," he says.
Teger's new group of color prints uses some of the same dollhouse furniture that appeared in the relationship series of 30 years before, as well as his small "Spiritual" series – also in the show – from 2006.
Teger's favorite color image in the show is titled "Avoiding the Obvious." It depicts two formal dining chairs on which rest two identical wooden cubes. The chairs are placed on either side of a fireplace whose mantle bears a cathedral-style radio. A massive (in relationship to its surroundings) wooden ball is situated between the chairs; a representation, perhaps, of the rhetorical "elephant in the room."
The image was inspired, Teger says, by Belgian Surrealist René Magritte's painting "Time Transfixed." That work shows a steam locomotive charging into a bourgeois sitting room via its fireplace.
"The nice thing is that I finally feel that I don't have to follow a formula. The Bodyscapes really locked me in. I like them, but they're my day job!"
Teger's Metaphor: Photo Poems exhibition runs Dec. 6-27. For more information, visit centerforspiritualcare.org.