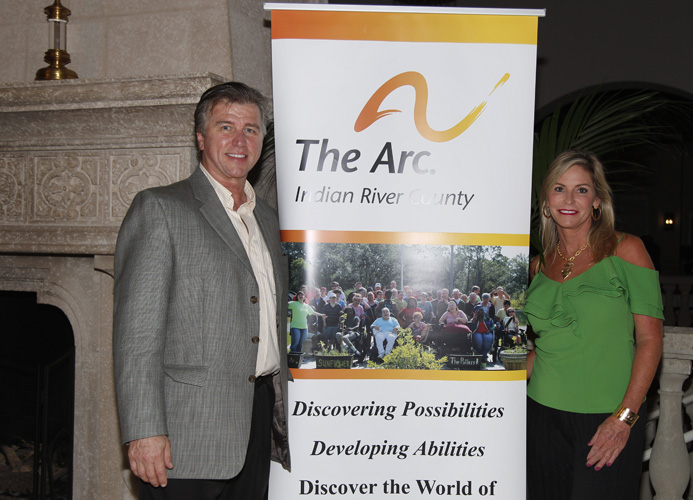 Supporters of The Arc, a nonprofit that caters to special needs individuals, gathered at the Grand Harbor Golf Club last Wednesday evening for the fifth annual Replogle Family Award Dinner, which this year honored Studio Gabriel owner Chris Walker.
Mary Ellen Replogle has been a moving force within the organization since she and other concerned families founded it in 1975, and the Replogle family created the award to recognize others in the community who have shown outstanding support for the agency.
Walker has been a staunch supporter of The Arc for more than eight years. She opens up Studio Gabriel several times a year so that members of The Arc chorus may perform, giving them a platform for public awareness and acceptance. She has also hired two very dedicated and willing employees through The Arc's employment program, and has sponsored fundraisers, volunteered and donated to the cause.
"There is no greater joy for me than to see our staff and clients embrace the beautiful souls in The Arc chorus. They are just so joyful and innocent, and everyone loves them," said Walker.
"Seeing them flourish, and watching my staff and clients embrace them and take them under their wings like family, is awe inspiring. I am honored to been given this award, but their smiling faces is reward enough."
Demonstrating that the admiration was mutual, the chorus dedicated the song "I'll always love you" to her, singing and signing 'I love you' to Walker, who responded in sign and blew kisses to the group.
In Indian River County, more than 2,000 families are impacted by special needs such as Down's syndrome, cerebral palsy, autism and other developmental and traumatic brain disabilities. The Arc supports and empowers these individuals through life skill programs, assistance with job placement, supported living and group home placement.
"We currently serve over 230 people annually," said CEO Heather Dales. "Some live at home and we help with shopping, medical appointments, banking and money management. Others live in our group homes; we have five in Indian River County and each houses four to six clients."
Dales said that while they do receive some state funding, they must make up an annual deficit of about $300,000, for which they rely on fundraisers and donations.
"The generosity of the community is what enables us to provide services to our most vulnerable citizens," said Dales.
Board member Ginny Blossom spoke about a current capital campaign to raise money for a sixth group home, adding, "I am also very excited about a new partnership with the Atlantic Classical Orchestra and the new music therapy program that is in the works."
For more information, visit www.arcir.org.
Photos by: Kaila Jones
Click HERE to see more or buy photos