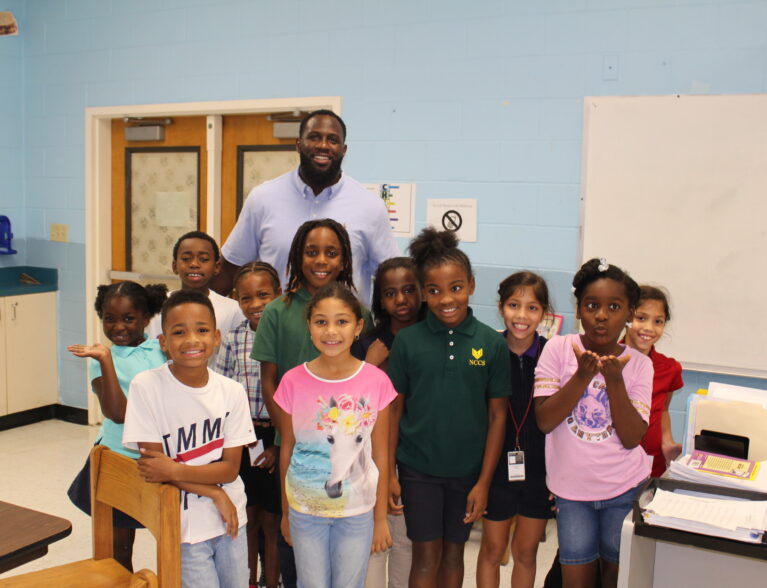 GIFFORD — Lebon Nicholas reminisced about coaching his younger brother, Stephen Nicholas, when he was growing up.
Lebon Nicholas, a staff member at Gifford Youth Achievement Center, said he started coaching little Stephen when he was 9 years old and playing for the Blue Devils, a park and recreation football team based in Jacksonville. That 9-year-old would grow up to play football throughout middle school, Robert E. Lee High School and the University of South Florida in Tampa on a full-ride scholarship.
Stephen Nicholas' determination and focus paid off when he was drafted by the Atlanta Falcons in the fourth round of the 2007 National Football League Draft. Nicholas, who was a linebacker, played for the team for sevens seasons.
But, a serious leg injury Stephen Nicholas suffered while playing the sport in college almost shattered his dream of playing in the NFL. The 36-year-old former football pro spoke Nov. 6 to youth at the GYAC about the importance of education and having a back up plan outside of sports.
"The youth were excited and asked him a lot of questions. It was a day to focus on what life was all about," GYAC Youth Program Director Curtis Webb said. "The kids learned so much about what it takes to make it in this world. It's not going to come easy. You have to work for it and keep fighting for your dream."
Stephen Nicholas spoke to middle and high school students. He also took pictures with elementary school youth and gave out autographed Atlanta Falcons T-shirts that had his team number 54.
"It was a great day at GYAC to teach our kids about hope and academics," said Lebon Nicholas, the eldest out of his eight siblings.
Stephen Nicholas was originally scheduled to speak to students for Kids at Hope week,  which is Monday through Friday. Kids at Hope is a national initiative that encourages schools and organizations serving youth to create an environment where all kids experience success.
Stephen Nicholas came a week earlier to the GYAC. On Monday, his wife, Irene, gave birth to a baby girl.
Lebon Nicholas called his brother on the phone Monday morning to check on his sister-in-law.
"She just had the baby?" Lebon asked Stephen Nicholas. Lebon Nicholas said he is excited to meet his new niece.
"It's another plus," Lebon Nicholas said
Stephen Nicholas, who previously coached for the Tampa Bay Buccaneers after leaving the Falcons, lives in Orlando with his family. The former football pro has four other children – two boys and two girls ages 4 through 11.
In 2015, Stephen Nicholas joined the University of South Florida coaching staff as a quality control analyst for the defense for the Bulls football team.
Stephen Nicholas was one of several people who recently spoke to Gifford youth. Former Cleveland Browns football player Will Hill, who is from Gifford, chatted with students last month about the importance of education.
Administrators believe GYAC has a laser-focused vision on academics for its students. The center's goal is to increase high school and college graduation rates, increase parental involvement and enhance youth and adult success through its programs activities.
Stephen Nicholas' lecture to students reinforced that message.
"I thank him for taking the time to speak to students about the importance of getting their education and having a backup plan," GYAC Executive Director Angelia Perry said. "He answered all the questions the kids had. He talked about how faith played an important role in his success, hard work and preparing for the future. They need to start preparing now."
Photos provided by GYAC