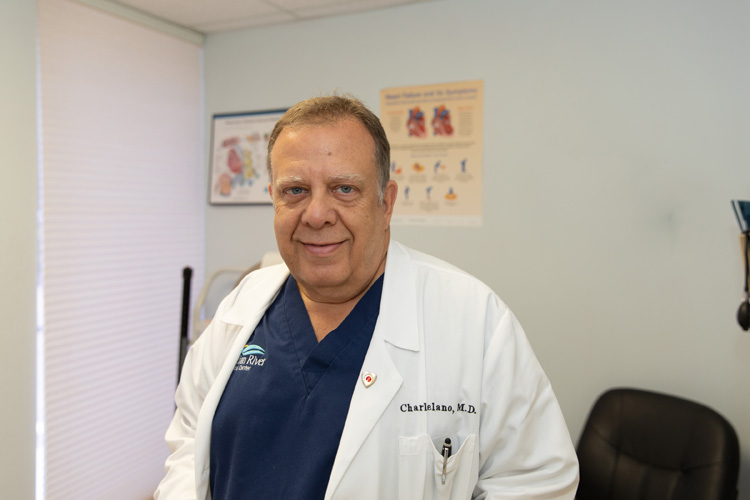 If you've had, or are about to have, heart surgery brought on by acute myocardial infarction (heart attack), a bypass or the placement of a stent, or an arrhythmia or maybe congestive heart failure, you're probably wondering 'What's next?'
Dr. Charles Celano with Cleveland Clinic Indian River Hospital has two words of advice: cardiac rehab.
Celano has been involved with cardiac rehab in Vero Beach since the early 1990s, and since 2006 he has been a medical director of what he calls "a very robust program" that includes cardiac surgeons Dr. Cary Stowe and Dr. Mark Malias, as well as registered nurses Carol Alvarez, Matthew Weese and Cynthia Brognano, exercise physiologist Morgan Ball, respiratory therapist Lynn Ramsdell and others.
Why so many specialists? Because, as Cleveland Clinic's website says, a top-notch cardiac rehab program "studies each patient's needs and designs an individual program just for him or her.
"The best cardiac rehabilitation programs are multidisciplinary with doctors, nurses, exercise physiologists, psychologists and dietitians either on the premises or in direct contact with the program staff."
The Mayo Clinic wholeheartedly agrees with Cleveland Clinic's mission statement for cardiac rehab programs.
"Cardiac rehabilitation," it says, "is individually designed to help you improve your health and help you recover from a heart attack, other forms of heart disease or surgery to treat heart disease. The goals of cardiac rehabilitation include establishing an individualized plan to help you regain strength, preventing your condition from worsening, reducing your risk of future heart problems and improving your health and quality of life."
Not surprisingly the American Heart Association, the American College of Cardiology and the National Heart, Lung and Blood Institute at the National Institutes of Health all recommend cardiac rehabilitation programs for heart patients.
These programs "include exercise training, education on heart-healthy living, and counseling to reduce stress and help you return to an active life," according to the National Heart, Lung and Blood Institute.
That's especially important for those suffering from congestive heart failure (CHF) because, according to the Centers for Disease Control, "the prevalence and incidence of CHF are increasing each year due to the aging of the population and currently cost the U.S. healthcare system an estimated $32 billion each year for the 6.5 million people in the United States with the disease and the more than 650,000 new cases diagnosed each year." Those are big numbers but the cardiac rehab program at Cleveland Clinic is putting up some big numbers of its own – especially considering the size of the hospital.
On any given week the Vero rehab program can be working with between 80 and 100 patients, a range Celano calls "almost unfathomable" at a hospital the size of Cleveland Clinic Indian River. Celano says "hospitals two or three times the size of this one don't have that many participants" in their rehab programs.
"We've instituted some mechanisms in the hospital by which people get automatic consults for rehab," Celano says.
In other words, while patients are still in their hospital beds, someone from rehab will visit them and explain the benefits of the program in person.
The ever-candid Celano does point to one hiccup he and his team come across getting heart patients into rehab, and that is dealing with private insurers.
While Medicare patients face no payment problems, Celano says "with private insurance, we sometimes run into trouble because they don't understand [the difference between] cardiac rehab and physical therapy.
"In cardiac rehab, there's 36 sessions. Unfortunately, private insurances don't always distinguish between a physical therapy visit and a cardiac rehab visit, so they'll ask the patient for 36 copays and some of those copays could be 50 to 100 hundred bucks. That's a lot of money."
That problem aside, the American Heart Association says medically supervised cardiac rehab programs are of great value to patients.
"Cardiac rehabilitation," it states, "doesn't change your past but it can help you improve your heart's future."
Dr. Charles Celano is a cardiologist with Cleveland Clinic Indian River Hospital. His office is at 3607 15th Avenue, Suite A in Vero Beach. The phone number is 772-562-8522. For more information on the Cardiac Rehab program call 772-567-4311 extension 2410.