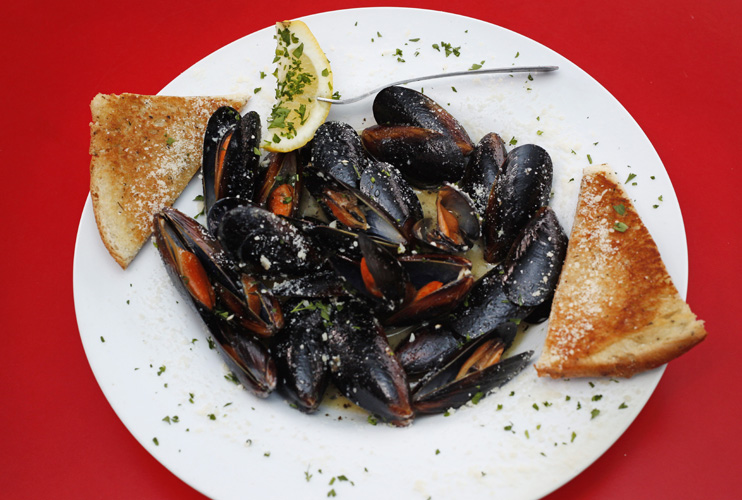 At the very south end of our island, on the left just after you cross the rickety drawbridge to Fort Pierce, is a marina with a bar and restaurant.
The Harbor Cove Bar & Grill has been there a long time, under several ownerships. In the old days, we used to drop by occasionally. The view from a table on the deck, watching the boats going in and out of Harbortown Marina, was great. The chowder, the fish sandwiches, salads and drinks were OK. It was a good spot for a leisurely lunch on a nice day, but not with dishes you'd be likely to want for dinner.
A couple of weeks ago, however, we were down that way and decided to look in on a Friday evening.
What a surprise!
The dining deck was much larger than we remembered it, with high-and-low-top tables arrayed under brightly colored umbrellas. The triangle-shaped bar, which must have seated 50, was packed. The live-band playing was among the better that we've heard locally. The place had sort of a Key West vibe, and even more amazingly, the kitchen was featuring fresh seafood entrées like sea scallops.
We decided to stay, and veteran server Giovanni quickly took our drink order.
For starters, we opted to share an order of fried calamari ($11). Perfectly flash fried, the calamari were very tender, and were served with an excellent freshly made tomato sauce. A very promising start.
Then for a main course, I rolled the dice and ordered the seafood fra diablo ($28). My husband settled on the avocado mahi ($20).
My seafood dish consisted of shrimp, scallops, clams and mussels – all cooked perfectly – served in a marvelous tomato garlic sauce. I like spicy food, and the chef's heavy hand with the red pepper flakes took this dish right to the edge. It was wonderful, but if you don't like food fiery hot, you want to ask your server to remind the chef to go easy on the pepper flakes.
My husband's fresh dolphin was lightly blackened, and was topped with a tropical avocado salsa that went fabulously with the fish. The dolphin was accompanied by excellent black beans and rice.
The portions are large here, so we decided to forgo desserts. Dinner for two with a couple of glasses of wine but before tax and tip came to $90.
There were a number of other entrées on the dinner menu that sounded tempting. I know I'm going to be trying those sea scallops next time we're there. And having found the Harbor Cove restaurant again after all these years, there will be a next time.
I welcome your comments, and encourage you to send feedback to me at tina@verobeach32963.com.
The reviewer dines anonymously at restaurants at the expense of Vero Beach 32963.
Harbor Cove Bar and Grill
Hours: Daily, 11 a.m. to 9 p.m., (10 p.m. Fridays & Saturdays)
Beverages: Full Bar
Address: 1930 Harbortown Drive, Fort Pierce
Phone: 772-429-5303
Photos by: Kaila Jones
Click HERE to see more or buy photos