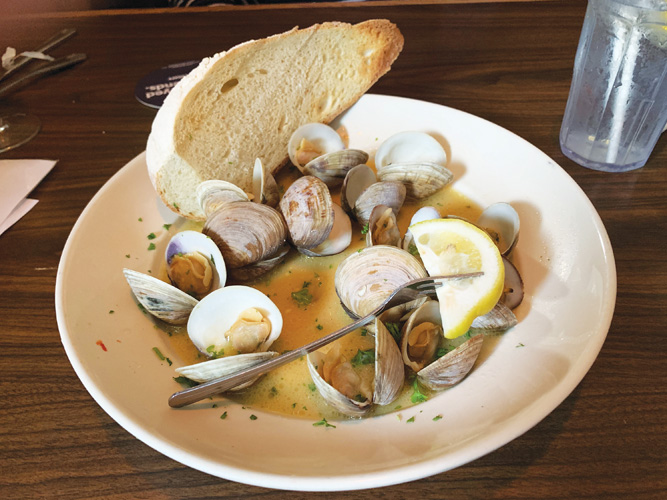 For more than a decade, we've raved about the 12A Buoy – a little shack on the edge of Fisherman's Wharf in Fort Pierce that has long served the freshest fish and tastiest seafood dishes to be found for miles around.
Well, the fresh fish is still wonderful. But based on a couple of recent visits, I would add a new adjective to the superlatives that I customarily use to describe 12A Buoy dishes – inconsistent.
If you go there and one of the original chefs is in the kitchen, you are likely to find that the food is better than ever. But if you don't luck out and a backup is taking the lead, you may wonder what I am talking about.
That brings me to this new word that I hate – inconsistent – which is the best way to describe my two most recent experiences at the 12A.
On the first of these two visits, I started with my favorite appetizer, steamed clams, which were – as always – sinfully delicious, steamed in a garlic herbed butter and sherry sauce, and served with a chunk of grilled bread perfect for mopping.
But on a Sunday evening visit a couple of weeks later, things were totally different. For starters, the dish had wayyyy too much salt, the clams seemed a bit overcooked, there was not much sauce, the grilled bread was a bit stale, and the whole experience was a rare disappointment.
My husband's experience was much the same. On the first visit, he started with one of his favorites – the creamy, clam-filled New England clam chowder ($5 for a cup, $8 for a bowl) – which he insists is the best around, and it totally lived up to its reputation.
But on this most recent evening, he began with the fried oysters, which he said would have been great had they not been wayyyy too salty. Really, really salty.
Our excellent server reported our unhappiness with the salt back to the kitchen, but no one came rushing out of the kitchen offering to replace these dishes.
So we moved to the entrées. I ordered one of the evening's specials, the pan seared yellow eye snapper ($28), and my husband went for another special, the grilled swordfish ($26).
My snapper was served with a vegetable risotto, topped with a creamy crab and lobster thermidor sauce, and finished with wilted spinach. This was a very tasty dish, but the thick cut of yellow eye snapper was clearly overcooked.
The same was true of my husband's swordfish – a beautiful piece of fish, served with basil herb rice and a watermelon salsa, but grilled to the point where it was no longer moist and juicy. And the dish was accompanied by spears of asparagus that were close to uncuttable.
As this point, we decided to forego the homemade desserts and call it an evening.
After a decade of bragging to people about meals we've enjoyed at the 12A Buoy, we are hardly about to give up on one of our favorite restaurants.
But we sure hope our visits over the next year produce more meals that we would rate spectacular, and fewer that leave us shaking our heads.
I welcome your comments, and encourage you to send feedback to me at tina@verobeach32963.com .
The reviewer dines anonymously at restaurants at the expense of Vero Beach 32963.
12A Buoy
Hours: Wednesday through Monday (closed Tuesdays), 11 a.m. to 9 p.m., (10 p.m. Fridays & Saturdays)
Beverages: Beer & Wine
Address: 21 Fisherman's Wharf, Fort Pierce
Phone: 772-672-4524