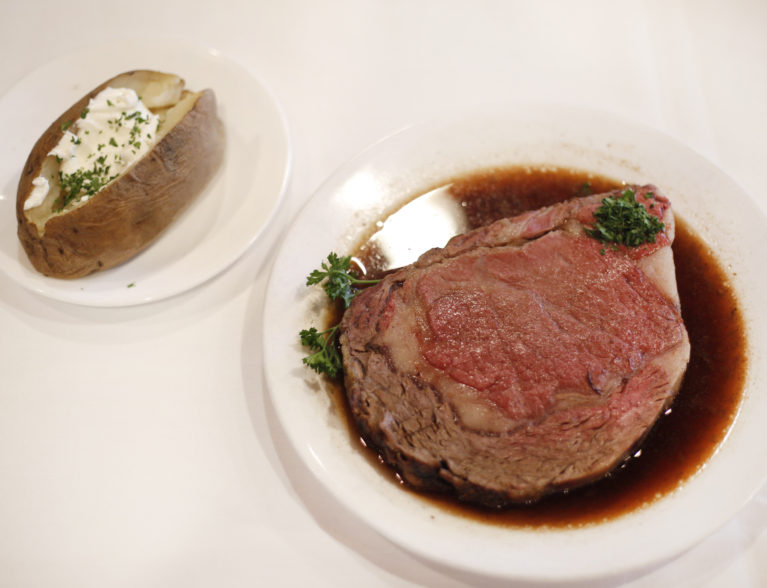 A mere 35 years after it opened, last week we decided to review C. J. Cannon's Restaurant.
Hey, we figured everyone knew that this vintage restaurant – overlooking the runways at Vero's airport – was the place to take younger diners (and some not so young) for an unrivaled view of planes taking off and landing.
But we never gave a lot of thought to the food until someone suggested last week that C.J. Cannon's was one of the best places in town for a Southern-style dinner.
So off we went on a wet Thursday night (not optimum conditions for aviation buffs), and were quickly ushered to a booth where we could look out through the huge rain-streaked windows at the not-very-busy runways.
These tables have to be in high demand on nice days, because you couldn't ask for a better view of the planes.
Our veteran server Lisa quickly took our drink order (you can get pretty much anything here) and she returned with a couple of glasses of wine and a plate of warm corn muffins and delicious garlic cheese biscuits. A promising start.
For appetizers, I ordered the fried breaded mushrooms with homemade ranch dressing ($9) and my husband opted for the baked stuffed clams ($8).
The dozen or so fried mushrooms far outnumbered the three stuffed clams, and while both were tasty, the mushrooms got our vote as the one we will have again next time.
The big surprise of the night for us, however, was the huge variety of entrées available. The seafood options included a variety of shrimp and fish dishes led by fresh cobia; the beef dishes ranged from hand-cut steaks to slow-roasted prime rib; and there were five different preparations of chicken breast to choose from.
But we had come for the southern specialties, and I decided to go with the southern style slow-cooked pot roast ($14), and my husband ultimately chose the homemade meatloaf with pan gravy ($14) over the beef liver with bacon and onions ($14). From a lengthy list of sides, we picked the mashed potatoes, the fried green tomatoes, a sweet potato and creamed spinach.
My pot roast was an excellent version of this classic dish. Fall-apart tender, it was the ultimate comfort dish. My husband found his meatloaf super moist and delicious. Yummy. Who doesn't like meatloaf?
For dessert, we shared a peach cobbler. The peaches were wonderful, though the crust could have used a couple more minutes in the oven.
But this turned out to be very enjoyable evening, and we absolutely will return – this time in far less than 35 years – to try the seafood and beef entrées. The fact that we did not visit C.J. Cannon's years ago is clearly our loss.
P.S.: We've heard mighty good things about breakfast here as well.
I welcome your comments, and encourage you to send feedback to me at tina@verobeach32963.com .
The reviewer dines anonymously at restaurants at the expense of Vero Beach 32963.
C.J. Cannon's
Hours: Daily 7 a.m. to 9 p.m., Sunday until 2 p.m.
Beverages: Full Bar
Address: 3414 Cherokee Drive, (Vero Beach Regional Airport)
Phone: 772-567-7727