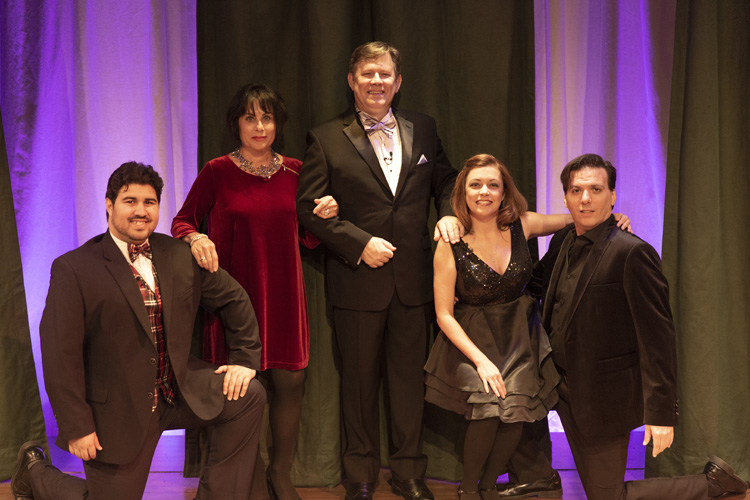 Speak to directors, actors, music directors, choreographers and lovers of anything Stephen Sondheim and one word you'll hear repeatedly is "challenge."
Indeed, even a PBS Series, "Broadway, the American Musical," invoked: "Sondheim's talent derived from his ability to cross genres of music and theater to offer Broadway audiences works of remarkable craft on unexpected subjects that challenged and tested the form of the American musical."
Yes, Sondheim is all that. But done with a deft hand, with the right mix of sophistication, restrained emotion and cosmopolitan malaise, his work turns into a rich theatrical experience. Witty and wise, well-done Sondheim will unite you with the rest of the cognoscenti in the audience and make you feel so smart that you get it.
You can experience that feeling for yourself in "Putting It Together," a Sondheim musical revue opening Aug. 2 and running through Sept. 9 at the Melbourne Civic Theatre, a short drive north of Vero Beach.
Rick Pender, former editor of the "Sondheim Review" and editor of Rowman & Littlefield's upcoming "Stephen Sondheim Encyclopedia," says that the hallmark of a Sondheim song is that each one is like a complete story with a beginning, middle and end.
"It's hard to categorize his music because each show (has) music specific to it," explains Pender, who has interviewed Sondheim frequently. "He approaches song writing as if he were an actor."
Pender says Sondheim likes to wait until the libretto is finished and the show is cast so that he can build on character. A case in point is when Pamela Myers, then fresh out of the University of Cincinnati, auditioned for "Company" she sang Roger Miller's folksy "Little Green Apples." He had never heard the song, but liked her "naïve and excited quality" so he cast her as Marta and wrote the song "Another Hundred People," sung by a newcomer to New York City.
"Putting It Together" is a musical revue, not a musical. Where a fully fleshed out musical has a plot and dialogue with characters that grow and change, a musical revue is a collection of songs from a select songwriter/composer. Typically, a musical revue has a skimpy conceit tying the songs together.
However, with "Putting It Together," you get more than the typical revue, according to director Peg Girard.
"He's put a little bit of narrative to it," she says.
Conceived and organized in part by Sondheim himself in 1992, "Putting it Together" was produced in England by Cameron Macintosh, who brought it to the Manhattan Theatre Club the following year. It finally made it to Broadway in 1999 where it starred, among others, Carol Burnett, George Hearn and Bronson Pinchot.
It loosely examines the relationships of two couples and a narrator at a party. Through song, the audience comes to realize where the people are in their relationships. The young couple is just starting out, while cynicism has crept into the lives of the older couple. Nevertheless, love abides.
Or is it need that abides? That's the question for the audience to ponder on their way home.
The show features more than two dozen Sondheim songs from many of his more famous musicals, including a number of tunes from "A Funny Thing Happened on the Way to the Forum," "Company" and "Follies."
There are also songs from "Assassins," "Merrily We Roll Along" and "Into the Woods," along with works from "A Little Night Music," "Dick Tracy" and "Sweeney Todd."
The title song, "Putting It Together," comes from the musical "Sunday in the Park with George," and has the lyrics "The art of making art is putting it together, bit by bit … Art isn't easy, any way you look at it."
One of Girard's favorite pieces is "Being Alive," which comes from "Company." In it, the singer yearns for:
Someone to hold me too close.
Someone to hurt me too deep.
Someone to sit in my chair,
And ruin my sleep,
And make me aware,
Of being alive.
Being alive.
The song speaks of the truth in needing someone to share life with you, Girard says.
Music director Kim Dickman says the unexpected, non-traditional chord progressions and dissonance within the music itself present a challenge for both cast and audience. Both groups need to listen carefully, she says.
"When you look at the instrumentals, they tend to be very tightly constructed," Dickman explains. "It's important to communicate vocally and lyrically over that mechanical feel."
Do it well and the payoff is sweet, because of his clever lyrics and their current of powerful emotions interspersed frequently with playfulness.
To get to that point, Dickman instructed the cast to do some homework: Listen to recordings of the songs, and then get to the theater early so they could practice.
"We work with interpretation, timing," she says. "Then we work on the nuances of the music and adjust tempo slightly so they have time to develop or communicate the character's moment."
Actors who succeed make their performances of the witty and cosmopolitan lyrics look and sound easy.
The collaboration doesn't stop at the director and music director; it also includes the choreographer, Kim Cole.
The biggest difference between choreographing for Sondheim – instead of more traditional musicals like those from Rodgers & Hammerstein ("Sound of Music") or Lerner & Loewe ("My Fair Lady") – is that there is no dance break.
A dance break, when the actor does not have to sing, allows for more complicated choreography.
"In this case, I have had to modify the dancing, taking into consideration that the performers have to use their breath for the challenging vocals instead," Cole says. "However, we've added more dance in this show than one might expect."
Melbourne resident Rita Moreno, who brings the role of the older woman to life, says she finds the irony in Sondheim's characters appealing.
"My character is well-to-do, but it's all kind of a façade," Moreno says. "You see bits and pieces of the stress she feels and the frustration. It's very moving. The couple thinks things were so much better when they were different, and not these people giving parties in Manhattan. 'We were good way back when,' they think."
Moreno, who has performed in multiple musicals and straight plays throughout the area, says that Sondheim is the hardest thing she's ever done. She performed the tap dancer Stella Deems in "Follies" at the Henegar Center four years ago. The music, she says, is brilliant but unusual.
"I don't know how to describe it," she says. "Every song tells a story. There's no distinct beat. No predictable melody line. It's contemporary people with contemporary emotions and reactions. He had a lot of struggle early in his life, maybe the way he writes is because of that."
In "Sondheim on Sondheim," which was performed last season at Titusville Playhouse and the Henegar, Sondheim appears on a video talking about his early childhood. He had been taken under the wing by Oscar Hammerstein, who was more of a father to him than the one who left his mother. When he was an adult, his mother told him that she had never wanted him.
"To cope, he must have put that into an intellectual realm," Moreno says. "I'm sure that a lot of his work comes from that."
Indeed, it takes talent, determination and practice, practice, practice to do Sondheim well. But no matter how much work you pour into it, the challenge is always there, says Terrence Girard, another popular area actor and husband to the director.
"The reason some people go out for it is the same reason others don't – it's challenging, top tier musical theater," he says. "But you better be at the top of your game if you're going to do Sondheim."
"Putting It Together" opens Friday, Aug. 2 and runs through Sept. 8 at Melbourne Civic Theatre, 817 E. Strawbridge Ave., Melbourne. Tickets are $31 general and $29 seniors, military and students. Call 321-723-6935 or visit MyMCT.org.