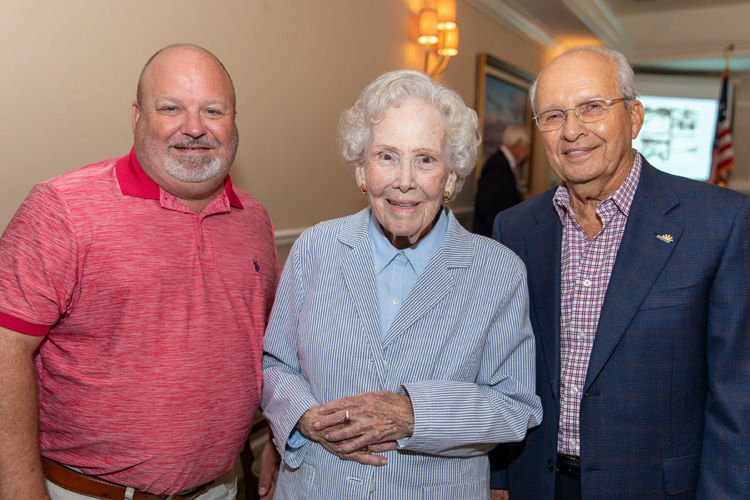 A cast of heavy hitters gathered recently for a Centennial Legacy Business Luncheon at the Vero Beach Country Club, hosted by the Indian River County Chamber of Commerce and the City of Vero Beach Centennial Committee to celebrate the legacy of several local business leaders.
Special guests Alma Lee Loy, Sam Block, Sid Banack and Bob Brackett shared recollections of Vero Beach "back in the day" during a panel discussion moderated by Vero Beach Vice Mayor Tony Young, co-chair of the Centennial Committee.
In addition to showcasing the city's history from a business standpoint, attendees also used the occasion to celebrate the 90th birthday of Vero's "first lady," Alma Lee Loy.
"Since we are a business-driven organization, we thought that it was most appropriate that we work with the city and the centennial committee to recognize legacy businesses and folks who have made those investments, been part of our community for a long time, and then helped build us from the ground up," said Dori Stone, IRC Chamber president.
"This is a very, very special occasion with very important panel members today, as we celebrate an auspicious occasion for the City of Vero Beach," said Young. He shared tidbits about each of the panel members, before they regaled the crowd with stories of bygone days set against a more bucolic backdrop.
Sam Block, whose family has owned businesses in Vero Beach for 82 years, recalled sweeping the sidewalk outside Alma Lee's Children's Clothing Store, and shared memories of attending school from first grade through his graduation in just one building.
"Growing up here and doing business here, it's been like a Camelot," said Block.
Bob Brackett's family came to Vero Beach in 1947, the year Loy graduated from high school. He said his first impressions as a 13-year-old boy related to the smell from sulfur water, living in the country and pranks such as tricking the bridge tender into opening the bridge for non-existent boats.
"We were a place that people didn't know about; a place that didn't get caught up in the activities that were going on around us," said Brackett, adding that as an adult, he came to appreciate what made Vero Beach so special. "We grew slowly."
Sid Banack said he settled here with his bride after graduating from college and embraced the citrus industry with gusto. He predicted that even through all its ups and downs, Indian River Citrus will once again reign as the best citrus in the world.
"I'm a native of Vero Beach and I'm pretty proud of it," said Loy. In the 1960s Loy was among those, along with Dan K. Richardson and others, who, she said, sought to "design the requirements for a city that would attract new citizens and help us hold onto the way of life that we were already enjoying."
To close out the celebration Sen. Debbie Mayfield read a proclamation cataloging the long and varied history of Loy's dedication to Indian River County and the people who call our seaside town home.
"Each generation bears the responsibility of leading the continuation of these elements that make us a very special city," said Loy.
The Centennial Celebration will continue through Oct. 26, concluding with a Centennial Finale Parade. For more information, visit verobeach100.com.
Photos by: Denise Ritchie
Click HERE to see more or buy photos