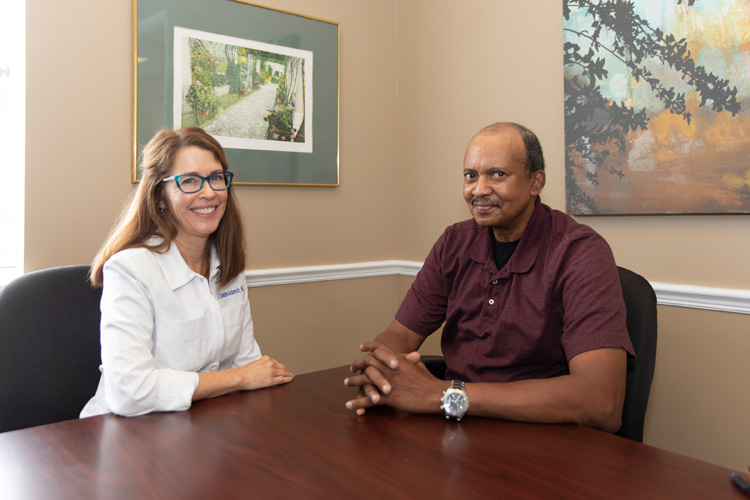 Until July of last year, Florida state trooper Steven Barr spent much of his time patrolling the Florida Turnpike. Lately, however, he's had to take on even tougher duty: battling Charcot neuropathic osteoarthropathy, or Charcot foot.
Charcot foot is a condition affecting the bones, joints and soft tissue of the foot and ankle.
The Cleveland Clinic calls Charcot foot "a rare but serious complication that can affect persons with peripheral neuropathy, especially those with diabetes." If left untreated it can be devastating.
The bones inside the foot can become so weak they break. The joints in the foot or ankle dislocate. The arch of the foot collapses, which rounds the bottom of the foot. This is called "rocker-bottom foot deformity," and in a scenario better suited to a horror movie than a medical diagnosis, the toes can then actually start to curve under the foot like claws.
If not caught in its earliest stage, says the Cleveland Clinic, pressure sores form that "can lead to infection and even amputation."
Fortunately, Barr had backup in his battle with the disease.
Dr. Dawn Davidson-Jockovich, director of the Center for Wound Care & Hyperbaric Medicine at Sebastian River Medical Center, along with Steward Medical Group vascular surgeon Dr. Hadi Shalhoub and the entire wound care team went to work to assist this 20-year Navy veteran-turned-state trooper.
Barr, who was diagnosed as being diabetic in 1993, says he first noticed the problem with his foot when there was "a fracture on the top of the foot and I was put into a boot. The boot rubbed the skin and abraded it and there was a hole the next morning."
The tools and techniques the wound center brought to bear on that "hole" included a new drug called Regranex – a human platelet-derived growth factor to help with the wound-healing process – as well as "skin substitutes" or biological skin dressings which "encourage" the growth of cells that fill in and close wounds.
The center's hyperbaric oxygen chambers also were key factors, along with carefully monitored antibiotic use.
The hyperbaric treatments, according to the wound center director, "are important for the vascular [aspect of the disease] because they increase the oxygen levels and encourage tiny new blood vessels to grow inside the wound," replacing any damaged ones.
That said, Johns Hopkins Medicine points out there are risks involved in hyperbaric oxygen therapy. Those risks include pressure-related injury to your ears, seizures and collapsed lung; some people with severe congestive heart failure have had heart function problems after these therapies.
Indeed, the American Diabetes Association stops short of recommending these treatments.
In June 2017, the Washington Post reported, "after an ADA committee of experts in diabetes care reviewed the available research last year, it concluded there was 'not enough supporting data on the efficacy of this treatment to recommend its use,' according to the association's chief medical officer."
Barr has an altogether different point of view.
"I was pretty amazed at the hyperbaric chamber and how oxygen can heal the body," he says.
When asked about the Regranex treatments, Barr pauses briefly and says, "I'd heard that's fairly new and I didn't know too much about it, but it really helped. It really closed up everything."
"We took pictures of each step," he recalls, "and you could actually see the hole going away. Going away until it was gone."
In fact, the only thing keeping trooper Barr off the turnpike at the moment is a pair of shoes. A very special pair of shoes.
"I'm getting custom shoes and orthotics," says a smiling Barr. He expects to be back on duty "as soon as I get them," which should be any day now.
While Charcot foot is said to be a "rare" disease, Davidson-Jockovich points out, "I have two other people with Charcot foot in my clinic right now," and she reminds anyone and everyone who has diabetes to be sure to check their feet every day.
The sooner any diabetic neuropathy condition – including Charcot foot – is diagnosed and treated, the easier and more successful treatment is likely to be.
Sebastian River Medical Center's Center for Wound Care & Hyperbaric Medicine at 13695 U.S. 1 in Sebastian. The phone number is 772-581-2070.