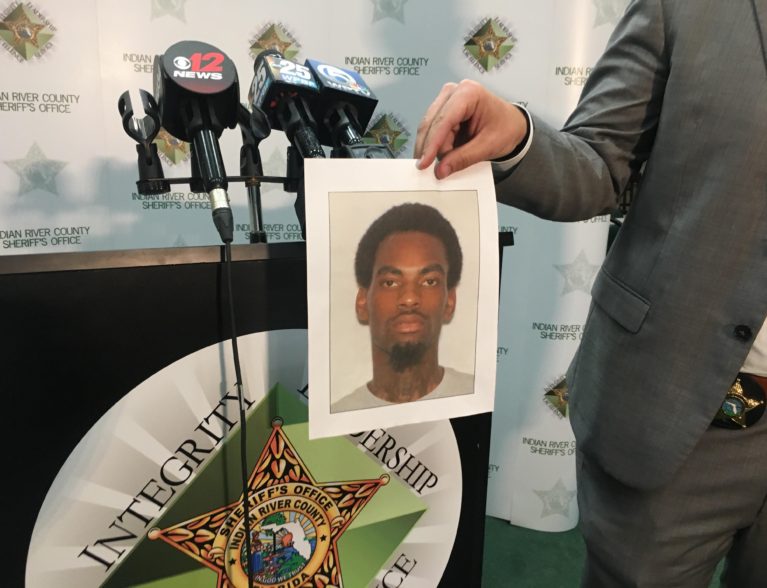 GIFFORD — An unlikely source, a shoe, along with community tips, helped deputies target a suspect they said fled a homicide scene last year.
Deputies were able to identify the suspect in the murder case based on a missing shoe found after the attempted armed robbery that turned deadly. Forensic evidence – DNA – from the black Reebok sneaker matched 23-year-old Richard Peterson III, Indian River County sheriff's detective Bob Sunkel said.
Friday, deputies charged Peterson, of the 1800 block of Woodland Circle, Vero Beach, with first-degree murder and attempted armed robbery. Deputies described Peterson as a six-time convicted felon who was released from prison in May 2018.
"A witness said (Peterson) came home that night with one shoe," Sunkel said. Sunkel was the lead detective in the fatal Oct. 2018 shooting.
The man killed in the shooting was Don Phillips II, a 29-year-old father of one child. Phillips was described as an aspiring barber businessman.
His mother, Aroma Phillips, spoke passionately Monday during a news conference about the hard work of deputies in solving the case and about her 'responsible, perfect' son.
Aroma Phillips' message to the community – "take the shackles off your tongues."
"Don't be afraid to speak up. Work with cops; they are here for us," said Aroma Phillips, 64, who shared a home in Gifford with Phillips, her only son. Her family recently held a birthday celebration to remember the life of Don Phillips, who would have turned 30 March 23.
The mother wore a shirt that showed her son's face along with the caption – "Live Forever And Always." Aroma Phillips said her son and Peterson did not know each other.
"I want to know why he killed my son," Aroma Phillips said.
*Click the audio icon in the lower right hand corner for sound.
.Indian River County Sheriff's Office deputies announce arrest of Richard Peterson in fatal Oct. 2018 shooting and attempted armed robbery in Gifford. The shooting left 29-year-old Don Phillips II dead. The mother of the victim, Aroma Phillips, told the community to "take the shackles off your tongues." Listen here

Posted by Nick Samuel on Monday, April 1, 2019
The fatal Oct. shooting happened in a tree-lined neighborhood in the 4600 block of 38th Avenue. Indian River County Sheriff Deryl Loar said Phillips was a passenger in a SUV sitting with a friend at a relative's home the night of the incident.
Loar said Peterson came up from behind shortly after 9 p.m. and pulled out a shotgun on Phillips. Peterson poked the firearm into Phillips' chest a couple times.
Loar said when Phillips reached for his licensed gun to protect himself, Peterson shot him once. "It was a horrific scene," Loar said.
Phillips was found lying next to the Ford Explorer, deputies said. Indian River County Fire Rescue crews pronounced him dead at the scene, Battalion Chief Kyle Kofke previously said.
Even though Phillips was shot, Sunkel said it appeared that Peterson was trying to rob the driver. It was unclear if any cash was stolen.
When the murder charge was filed Friday, Peterson was already being held at the county jail on attempted murder charges from a January shooting. For that incident, deputies said Peterson had fired shots at a vehicle with a woman inside, prompting four area schools to be placed on a temporary lock down.
No injuries were reported in that incident. Deputies identified the victim in that shooting as Phillips' sister, Adrienne Phillips, 32.
Adrienne Phillips said she had seen Peterson on previous occasions walking in Gifford. The woman said she knew Peterson was a suspect in her brother's killing.
For Indian River County, there have been two homicides reported for 2019 so far and eight total for 2018, Loar said. The firearm used in the Oct. 2018 shooting has not yet been recovered.
Peterson was held Monday at the Indian River County Jail without bond. Peterson has an arraignment at 8:45 a.m. May 10, court records show.
Who was Don Phillips II
A few weeks before Phillips was killed, he spoke to Aroma Phillips about going back to school and opening up a barber shop, the mother said. Aroma Phillips said she received a letter in the mail a few days after the shooting from a local barber school that said her son had been accepted.
Phillips worked at the Walmart Distribution Center and at Vero Chemical Distributors, Aroma Phillips said. The mother said she and her son's daughter, 7-year-old Lamaya, are in grief counseling.
"She's smart. He wanted her to be the best," Aroma Phillips said. "He was a hardworking father and always wanted to take care of his daughter."
Phillips also leaves behind his father, Don Phillips, a 69-year-old Vietnam war veteran. Phillips has three sisters, Sherina, 34, Adrienne, 32, and Donna Phillips, 50.
"He loved his dad," Aroma Phillips said. "(Growing up), his sisters protected him because he was the baby. We were a very close family."
Several months after the birth of his daughter, Phillips wrote a dedication to her.
"To be known by my little girl is the most important thing to me because I feel as if I have so much to show her in life," the dedication read. "I just want to show her the right way in life and how to deal with nonsense."
Photos by Nick Samuel and provided by the Phillips Family