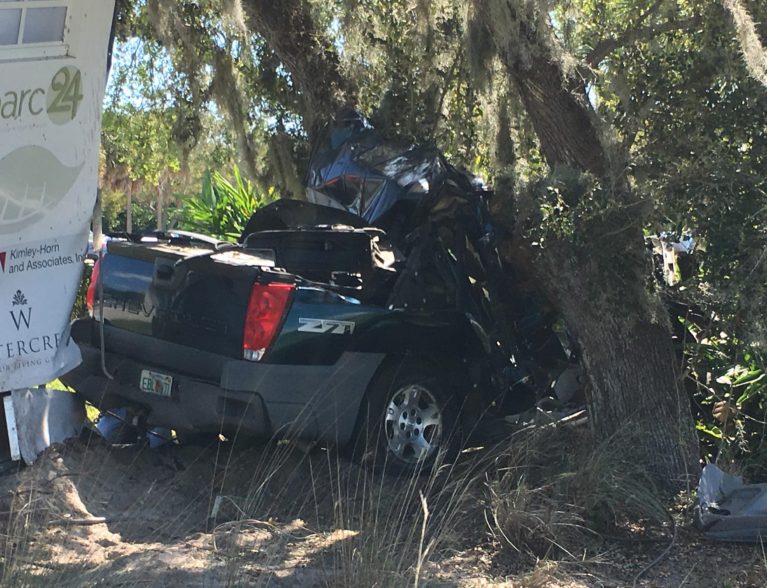 VERO BEACH — An unidentified driver suffered fatal injuries after his truck struck a tree early Friday, leaving him trapped inside the vehicle, fire rescue crews said.
The crash, which knocked down a power pole, closed southbound Indian River Boulevard in the immediate area for a little more than two hours, Vero Beach police said. The road reopened by 1:20 p.m.
The single-vehicle wreck happened at 10:32 a.m. Friday in the 2400 block of Indian River Boulevard, Indian River County Fire Rescue Battalion Chief Kyle Kofke said. The truck left the roadway at a high rate of speed before striking the tree, Vero Beach police Officer Brad Kmetz said.
*Click the audio icon in the lower right hand corner for sound.
A driver died after his truck veered off the roadway at a high rate of speed and struck a tree at 10:32 a.m. Friday at Indian River Boulevard and 24th Street in #VeroBeach. There were no passengers in the vehicle. Vero Beach Police Department will investigate the cause of the deadly wreck.

Posted by Nick Samuel on Friday, March 8, 2019
The force of the crash left the truck completely mangled, except for its rear. The two front tires were jolted off the truck and could be seen near the vehicle, along with other vehicle debris.
Fire rescue crews had to use equipment to cut the truck open to free the driver – a man – who was trapped inside, Kofke said. The man was taken by ambulance to Indian River Medical Center with critical injuries.
Soon after, doctors at the hospital pronounced the man dead, Kofke said. His name was not released early Friday afternoon.
A tow truck removed the vehicle from the scene about 1 p.m. Florida Power & Light Co. crews also responded to the scene to remove and repair the damaged power pole, Kofke said.
Police are investigating the cause of the crash.
Photos by Nick Samuel