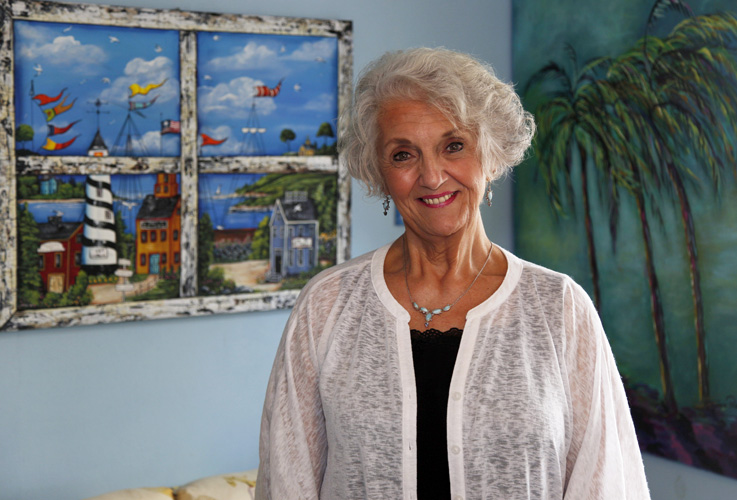 Theresa Frappier Prokop looked as if she had just stepped out of one of her whimsical paintings, dressed in flowing watercolor pants, turquoise blouse and bold hand-painted denim jacket.
Yet even the large bauble earrings and oversized beads she wore couldn't compete with her effervescent smile. And that's just the first impression of the dynamic artist, who gets more colorful and exciting as the conversation continues.
A renowned folk artist from Connecticut, Prokop now happily winters in Sebastian, and is one of several artists in the Wabasso-based Coral Mermaid Gallery.
Prokop says she uses her vivid imagination to depict whimsical scenes tell stories, blending life experiences and memories to depict the kinder, gentler side of life, such as children playing at the park, trick or treating on Halloween, or opening presents on Christmas Day.
"Folk art is as old as Grandma Moses," says Prokop. "It's simply painting or drawing something that tells a story. It might incorporate people doing things, or boats or swans. It's not really depicting a reality as much as it's creating a dream. It's whimsical and magical."
Her foray into art began at a very young age, when she colored everything she could get her hands on, including shoes, jackets, sidewalks and walls. Heeding the advice of an elementary school teacher who had noticed her talent, her parents enrolled her in a few sculpting and painting classes at the local museum.
"I didn't want anything to do with sculpting," Prokop recalls with a laugh. "I just wanted to paint."
Her artistic side truly blossomed when the late, great art instructor, Bob Ross, came to town. She immediately signed up for one of his 'Joy of Painting' classes, all while juggling a full-time job as a staff nursing coordinator at a local hospital, as well as her role as wife and mother. She was hooked.
"I had never really had formalized instruction since childhood, but his method made it easy. I took three years of his classes and became a certified Bob Ross instructor in 1986."
When he wanted her to travel with him and teach, she chose to stay home with her family. She began teaching two classes per week, while working local art shows on the weekends.
"My sister and I would do arts and crafts shows every weekend, selling paintings on canvas, clothing, furniture and pretty much anything that paint would stick to," she recalls. "Quite frankly, I started painting to make money for my family. We had two children to educate and bills to be paid."
Prokop says her husband was very supportive of her efforts, traveling with her to Lancaster, Penn., to buy unfinished furniture at auctions and later purchasing it directly from the Amish.
"We'd fill the trailer and haul it back home where I would paint it," she says. "The kids came with us and we always made an adventure out of the trip. It truly was a family affair. I consider myself a decorative folk artist because I will literally paint on anything."
While her preferred paint is acrylic – finding oils messy and tedious to dry – Prokop says she also enjoys the transparency of water color and is quick to experiment with new mediums.
"I've recently been enjoying the wonder of poured paint. It's a process where you simply pour a puddle of each color onto a canvas and watch the paints expand and blend the colors harmoniously. The results are breathtaking."
Prokop has sold her work at arts and crafts shows throughout New England for 30-plus years, and also became the largest seller of folk art on eBay. Exciting new opportunities began to come her way when she created her NewEnglandFolkArtists.com website.
Patterns of her designs are now sold through decorative paint stores and catalogs. She is sponsored by art supply companies, and is featured regularly in various painting magazines. She also has free acrylic and watercolor pencil instructional videos available on YouTube and her art is displayed at the Marietta Museum of Art and Whimsy in Sarasota, Fla.
"The Internet has taken my work worldwide," she explains. "I didn't even know what a paint pattern was until I was approached by Deco Art to create instructions for one of my designs. Basically, I give step-by-step instructions on how to duplicate one of my paintings. I list all of the supplies, provide a stencil and even specify which paint brushes and brush strokes to use in the process."
Prokop adds with a smile, "It's almost too good to be true. I get all my supplies donated by the companies I endorse; I get paid by the magazines to publish my patterns, and then I get the original painting back to sell outright. Basically, I get paid three times for a single painting."
After coming to Florida a couple of years ago, she created a whimsical 'Sassy Ole Ladies' greeting card line inspired by her Florida girlfriends, humorously depicting mature, fun-loving women letting it all hang out in their teeny bikinis.
"Their bodies may not be perfect but their attitude sure is," jokes Prokop. "Laughing at the aging process makes it palatable."
Her Internet successes aside, Prokop says she thrives on teaching people on a one-on-one basis.
"Helping someone tap into their inner talent brings me great joy," she explains. "I am currently teaching a class on painting garden poles at Whispering Palms (a manufactured home community in Sebastian).
"Watching the joy that my students get when their own artwork comes to life is so rewarding."
She also teaches an adult painting class at the Sebastian River Art Club and soon hopes to offer classes elsewhere.
"I have been fortunate enough to win Best of Show, First Place and Judges' awards many times over, but the best award is the simple 'thank you' you get from a student."
Commenting that the inspiration for her art comes from her faith, family, community and home, she says, "Painting has gotten me through life. It's therapy when times are tough and pure elation when times are good."