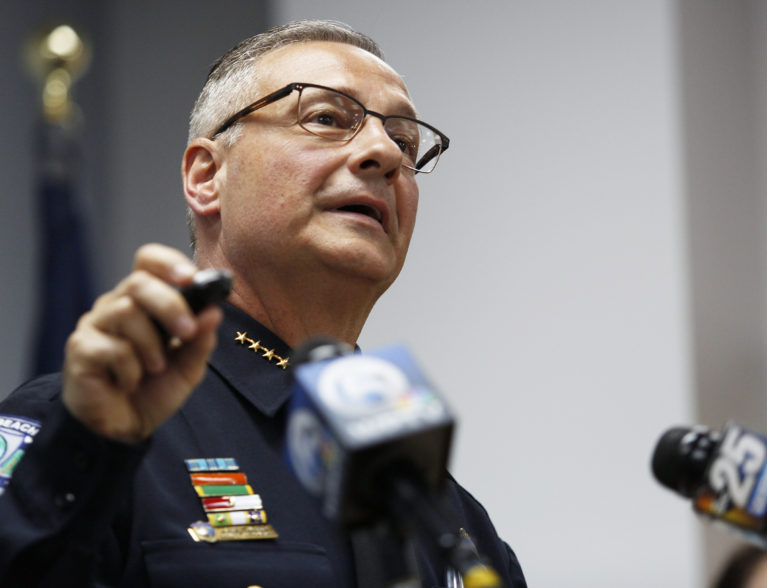 Photo by Kaila Jones 
INDIAN RIVER COUNTY — The faces of 45 "Johns," or men flashed on a screen, each arrested in a human trafficking sting at massage parlors that authorities believe profited between $1 to $1.5 million in business each year.
Vero Beach Police Chief David Currey said during a Thursday afternoon news conference that the victims were "recruited and threatened." "We won't tolerate it," Currey said.
Undercover police audio and video revealed more than 140 sex acts were performed by nine different women employees at one of the Vero parlors, East Spa, between November 2018 and January, reports show. Currey said there was very little protection used during the sex acts at the spas.
With more arrests expected by week's end, Currey had a message for other men who have engaged in prostitution at the locations.
"Turn yourself in or somebody will be knocking at your door," Currey said. In some cases, undercover officers were solicited for the sex acts.
The arrests and the stings were part of a sweeping law enforcement operation targeting three spas in Indian River County. Two other spas in Orange County, including one in Winter Park and another in Orlando, were also targeted.
"This is not (happening) just in Indian River County, this is happening all over the country " Indian River County Sheriff Deryl Loar said. Loar said authorities were working to seize the money from the bank accounts of the spas.
The human trafficking rings in Indian River County were 'hidden in plain sight.' At least two reported county victims – who are from China and do not speak English – were living at the spas and had no access to transportation.
The victims – who are women – were afraid that their boss would call law enforcement or immigration on them, Currey said. One of the victims ended up at a spa by responding to an ad for employment at the massage parlor.
"The victims do not have the ability to flee," Loar said. "Keep your eyes open. See something, say something."
Currey said police believe there are more victims.
*Click the audio icon in the lower right hand corner for sound
.Vero Beach Police Department Chief David Currey talks about human trafficking sting at massage parlors in Indian River County that netted dozens of arrests. Watch here.

Posted by Nick Samuel on Thursday, February 21, 2019
Some of the 'Johns' arrested were small business owners, members of the religious community and former members of law enforcement. One of the men, Vito Gioia, is a former officer with the Sebastian Police Department, Police Lieutenant Tim Wood said.
"These are fathers, uncles, sons…" Currey said.
Loar said 171 warrants were issued this week. More arrests were expected to come.
Suspected leaders of IRC human trafficking ring
At least six people suspected of operating the spas as human trafficking rings were arrested on racketeering and prostitution charges. Those people are Lanyun Ma, 49, Yaping Ren, 27, both of Orlando, Yan Xu, 51, Kenneth Zullo, 64, both of Sebastian, and Junhua Dong, 50, of Vero Beach, and Liyan Zhang, 42.
Lanyun Ma also faces a charge of human trafficking, records show.
Three others – Yongzhang Yan, Lanfen Ma, 43, of Orlando, and Peixia Zhang , 47, of Vero Beach – are wanted on charges in connection with the undercover probe. Authorities believe Lanfen Ma, who is Lanyun Ma's sister, is out of the country; Peixia Zhang is believed to be on the west coast.
Vero Beach police raided Yan's home, but he was not there, Currey said. Police are in the process of reviewing Yan's computer, passports, citizenship and other documents as part of the investigation.
Currey said police believe Yan and Lanyun Ma have been in the area since 2017.
As of Thursday, authorities did not believe the suspected Indian River County human trafficking leaders were connected to the spas raided in Martin County and Jupiter for the same claims. Several women who managed those spas were arrested in that case.
Martin County sheriff William Snyder on Tuesday said he expected deputies to arrest 100 men who engaged in prostitution at the spas. Thirteen Mandarin translators were hired to help speak with the victims of human trafficking stretching from Palm Beach to Orlando.
For Indian River County, Loar said he believes the money made from the acts was being sent to China.
The Spas
The targeted spas for the county case have all been shut down, Currey said. Surveillance footage captured the 'Johns' going inside the businesses.
The men paid the spas between $24 and $300 to participate in the acts of prostitution, law enforcement officials said. The men would pay for the massage and then for the sex act.
The victims would earn very little money from the prostitution acts, Currey said.
The spas being operated as human trafficking rings were:
East Spa, 2345 14th Ave., Vero Beach
East Spa, 1410A Gene St., Winter Park
Rainbow Spa, 1809-2 E. Colonial Drive, Orlando
East Sea Spa, 13401 U.S. 1 Sebastian
AA Massage, 1547 U.S. 1, Sebastian
Lanyun Ma was the manager of the East Spa massage parlors in Vero Beach and Winter Park and of AA Massage in Sebastian, said Wood and Currey. Yan, Lanyun Ma's husband, was the business owner of those spas.
Loar said Liyan Zhang, who managed the East Sea Spa in Sebastian, also engaged in prostitution acts at the business. The spa would stay open until 11 p.m.
Liyan Zhang had $22,000 in her purse when she was arrested at the spa, according to Loar.
Currey said two to three small rooms at East Sea Spa were being used for the prostitution acts. When you walk inside, there's a small room to the left where the women stayed.
Some of the rooms inside had set ups where the women could cook food and shower. The spa also had a washer and dryer.
Investigation at East Spa
Vero police, equipped with audio and video devices,  launched an undercover probe in August 2018 when police received numerous complaints from citizens about prostitution at East Spa. Officers learned Yan owned the spa and that Lanyun Ma managed the business.
Lanyun Ma was seen making multiple trips to stores to buy groceries for the spa, including food and water, reports show. The woman was also seen purchasing condoms for the business.
Police said Lanyun Ma engaged in sex acts at the spa. She was also seen in massage rooms with other employees while they were performing the acts of prostitution, reports show.
Officers also saw Lanyun Ma transporting numerous women to and from the spa on a regular basis. The women were only allowed to leave if they were with Lanyun Ma.
Between November and December 2018, police saw Lanyun Ma and Xu engage in 16 separate sex acts in exchange for money at the business, reports show. Officers also saw the women counting large amounts of cash and then taking the money to other parlors and banks.
Officers also saw several women carrying suitcases into the spa, reports show. Police discovered Lanyun Ma and Yan lived at different locations throughout the investigation.
Detectives learned Lanyun Ma made payments for Backpage.com advertisements, reports show. Backpage was a website used for classified ads until it was shut down by the government in April 2018 after complaints of the site allowing ads of prostitution and human trafficking.
The Florida Department of Health is in the process of pulling the massage licenses from the all businesses and managers involved in human trafficking in the county, Currey said.
Human Trafficking
Statewide, there was a total of 367 cases of human trafficking reported in 2018, reports show.
Those who suspect human trafficking might be happening nearby can call the toll free hotline at 1-888-373-7888 or visit www.humantraffickinghotline.org.