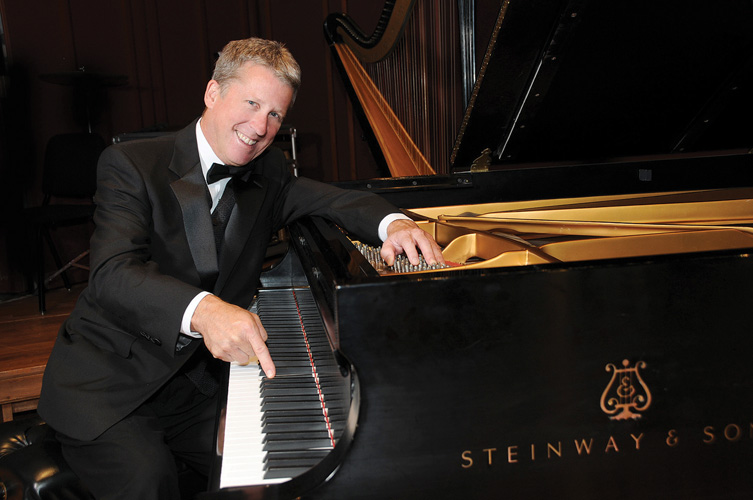 The Indian River Symphonic Association's 2019 Festival of Orchestras continues this Friday, Feb. 8, at Community Church of Vero Beach as the Brevard Symphony Orchestra welcomes back vastly entertaining pianist Rich Ridenour for "Great Movies, Grand Piano – POPS." Ridenour has been described by critics as "amazingly versatile, masterfully musical and wickedly funny," and, in this new iteration of the show audiences loved two years ago, says the promo, this concert is packed with memorable movie themes from "The Sting," "The Pink Panther," "Forrest Gump," "Somewhere in Time," "Exodus" and "Up." The wonderful BSO, under the baton of Christopher Confessore, will perform music from "Lord of the Rings," "Superman" and more. Time: 7:30 p.m. Tickets: $36-$50. 772-778-1070.
But wait. There's more. This time from Russia, with music. It's the return to Community Church of the Russian National Orchestra with a Feb. 14 St. Valentine's Day concert "of pure romance." The orchestra was founded in 1990 by pianist and conductor Mikhail Plenev, and performs in the music capitals of Europe, Asia and the Americas, and at numerous international music festivals. According to its website bio, when the RNO debuted at the BBC Proms in London (a summer series at the Royal Albert Hall), the Evening Standard reported they played "with such captivating beauty that the audience gave an involuntary sigh of pleasure"; and the Miami Herald has described the orchestra as "a living symbol of the best in Russian art." For its Valentine's Day concert, says the show promo, the Russian National will perform some of the most romantic numbers from the Romantic Era, including, of course, works by Chopin and Rachmaninoff. Special guest performer will be "the brilliant virtuoso pianist George Li," playing Chopin's beautiful and moving "Piano Concerto No. 1 in E minor." The 23-year-old Li won the Silver Medal in 2015's International Tchaikovsky Competition, and is lauded as having amazing "technical prowess and an effortless grace beyond his years." Bring that special person (and a hanky) and share an evening of gorgeous, romantic music. Time: 7:30 p.m. Tickets: $85. 772-778-1070.
If you're jonesin' for a little Fleetwood Mac, the Emerson Center is the place to be this Friday, Feb. 8, when Classic Albums Live brings its production of "Fleetwood Mac: Rumours" to the stage for a musical journey back to February 1977, when the English rock band released its 11th studio album, "Rumours." It has over the years become an enduring classic, and, to this day, continues to engage listeners with its "soothing sound and emotional lyrics." Ironically, according to Wikipedia, the "Rumours" studio sessions "were marked by hedonistic behaviour and interpersonal strife among band members, which shaped the album's lyrics." Classic Albums Live is known for taking classic albums and recreating them live, on stage, note for note, cut for cut without, they promise, "all the gimmickry and cheesy impersonations, but relying only on the music." Time: 7 p.m. Tickets: $30 to $75. 772-777-9321.
Sex Pots. The name pretty much says it all. Well, that, and the venue: Flametree Clay Arts Gallery. So, are you ready for the only erotic clay art exhibition around, as far we know? I believe this is the exhibition's second season at the Flametree and also that the first year was a pottery hit. In any case, "Sex Pots" is on exhibit through February, and you can check them all out for yourself at the gallery in Vero's mainland 14th Avenue gallery district. Hours: Tuesdays, Wednesdays and Thursdays, 11 a.m. to 6 p.m.; Fridays and Saturdays, 11 a.m. to 7 p.m. 772-202-2810.