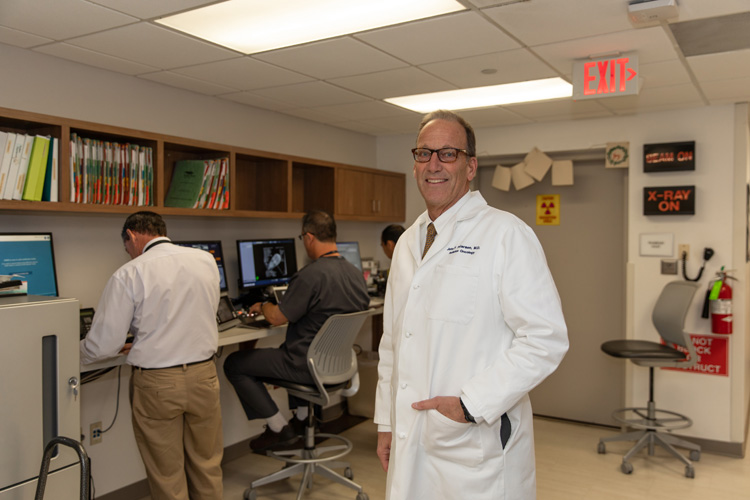 Scully-Welsh Cancer Center radiation oncologist Dr. John Petersen has a passion for nutrition. For a very good reason.
As the Modern Medicine Network points out, "malnutrition plays a key role in the morbidity (death) of head and neck cancer patients receiving surgery, chemotherapy, radiotherapy or combined-modality therapy."
Since head and neck cancers include cancers of the mouth, lips and tongue as well as the larynx, the pharynx, the hypopharynx, the nasal cavity, the salivary glands and the sinuses, they can have a devastating impact on a patients' ability – or willingness – to consume the nutrition they need to fight their cancer.
The reason why is something of a conundrum.
Today's incredibly precise radiation treatments have been amazingly adept at killing these cancers.
That's good.
However, as the University of California San Francisco points out, "radiation therapy can cause many side effects that may contribute to inadequate calorie and protein intake. These side effects include lack of appetite, taste changes or lack of taste, painful chewing and swallowing, dry mouth, early satiety, diarrhea, nausea and disinterest in food and eating."
That's bad.
That disinterest – or inability – to eat has been clinically shown to result in higher hospital readmission rates and seriously impaired quality of life for the patient.
And while Petersen notes that the traditional risk factor for head and neck cancers – cigarettes, cigars and smokeless tobacco products such as snuff and chewing tobacco – are on the decline nationwide, the smile fades from his face when to talks about a new threat.
"Now what's happened in head and neck cancer," Petersen explains, "is that there is this epidemic which we don't completely understand.
"It's called squamous cell carcinoma of the oropharynx. That's the throat, behind the mouth [and these cases] are rapidly increasing. This cancer, this particular type, is not related to smoking. It probably is related to viral exposure to something called human papilloma virus (HPV), which is all around the environment around us."
Petersen pauses briefly and then adds, "And now, when people have this HPV-related squamous cell carcinoma of the oropharynx, the vast majority of those people will be cured and that's great. But there's a problem … [because] the treatments bring many problems directly associated with the radiation."
For many patients, Petersen continues, "their mouth gets very dry, their saliva gets very sticky, things don't taste right. Also, their ability to chew and swallow is modified [and impaired], and so what we have now is a big issue with how are we gonna take care of these people?
"We're curing them but the important focus is quality of life. So how can we improve their quality of life?"
It's here where this five-star-rated (vitals.com and webmd.com) radiation oncologist's natural buoyancy and enthusiasm resurfaces as he points to the National Comprehensive Cancer Network's newest guidelines.
The NCCN is a nonprofit alliance of 28 leading cancer centers devoted to patient care, research and education, and dedicated to improving the quality, effectiveness and efficiency of cancer care so that patients can live better lives.
In a nutshell, NCCN now calls for expanding cancer treatment teams nationwide to include not just surgeons and (for head and throat cancers) otolaryngologists, medical oncologists, radiation oncologists, pathologists, and X-ray and imaging specialists, but also registered dietitians, speech pathologists, gastroenterologists and interventional radiologists to help patients get the nutrition they need.
"We had a big dietary meeting [at Scully-Welsh]. A dietary and support meeting. We asked everyone, 'Wanna come?' and we got two answers: 'Yeah,' and, 'Heck yeah.' Everyone showed up. It was brilliant. A really good support meeting."
So, while the National Cancer Institute bluntly states that the number of head and neck cancers – particularly oropharyngeal cancers caused by HPV infections – will continue to increase, Petersen and his colleagues at Scully-Welsh are fighting back by expanding their team to offer better, more comprehensive care for their patients.
Dr. John Petersen is a radiation oncologist at Scully-Welsh Cancer Center. His office is at 3555 10th Court in Vero Beach. The phone number is 772-794-3333.