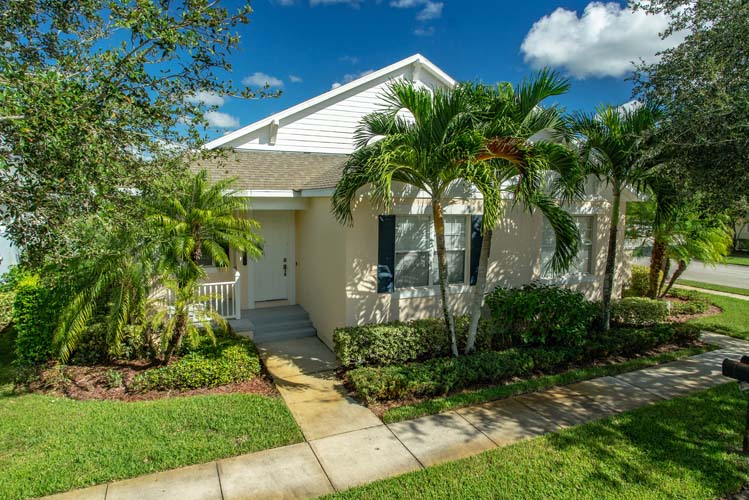 If the award-winning Pointe West development could go back in time, undoubtedly more "villas" would have been built – a housing type featuring two attached single-story units – since they have proven to be wildly popular.
"Everybody wants them," Berkshire Hathaway Home Services listing agent Chip Landers said. "They are low maintenance, similar to a condo, but they're on one floor, offering more convenience and privacy."
The usual communal-property and yard maintenance, as well as communal-pool use are included in the homeowners' association fee. But because villas are attached, synchronized upkeep is necessary, so this home's $274-a-month fee also includes exterior maintenance, such as roof replacement, painting and power washing.
Young professionals, retirees and snowbirds can leave at a moment's notice for months on end with no worries. And the size is just right for many buyers – 1,544 square feet, with two bedrooms, two baths and a den that can handle guests. No wonder these homes rarely come on the market.
Built in 2005, 7524 15th St. has had one owner who seldom used it but nevertheless put in regular upgrades, such as pendant and other specialized lighting and lovely plantation shutters, even on the sliding glass doors.
It's in Central Village, developed first among four villages, where the trees and plants have reached kingly heights offering mothering shade.
Pointe West is known for its "traditional neighborhood" design, each village offering varied housing – townhouses, single-family homes and villas – that attracts people of all ages, heterogeneity being one of the community's charms.
The design promotes neighborliness. The garages are in the back on an alley, many residents rolling up their garage doors for hours while they tinker on a fun project, stopping to chat as dog walkers, strollers and neighbors come within their orbit. The alleys are where the action is.
The houses have covered porches in front that are used for quieter pursuits, since the usual auto traffic is siphoned off by the alley design.
For more action, buyers can join the golf and country club. The villa is close to both the club house and golf course – which was designed by John Sanford and is part of the Palmer Advantage network. The country club restaurant has noted chef John Corso. Various levels of memberships are on offer.
In the other direction, within sight, is the pool. "All the residents can use any of the pools – each village has its own – and all are gas heated, getting use all year," Landers said.
At the end of the block is a pond, where paddling ducks and basking turtles beckon walkers and cyclists to pause before embarking on longer rambles.
The villa was built by KB Homes, which has won energy-efficient design awards and touts A-list equipment and materials partners, offering quality at good prices, having attained economies-of-scale – the company built 40,000 homes and took in $9 billion in revenue in 2005.
The villa meets the state-mandated Standard for Hurricane Resistant Residential Construction. The reinforced garage door is rated to withstand 100 mph winds. The 9-foot-4-inch ceilings, rounded-drywall corners, gently arched doorways and ceramic tile flooring are some of the quality-construction features.
The kitchen is open to the dining area and great room, a counter seating four the favored spot for cocktails or coffee. The counters are practical Formica made to look like granite. Wooden cabinets painted white, white appliances and white tile flooring give a crisp look.
A bi-fold door hides the pantry, another hides the washer and dryer.
The owner's suite includes a walk-in closet, a bathroom with a walk-in shower and over-large tub. It's located at the back of the house, far from the front bedroom. A sliding-glass door to the covered back porch adds another secluded spot to the suite.
The garage is overlarge, with a window next to the garage door, shedding light on an area big enough to install a craft bench.
The low-maintenance convenience and neighborhood pleasures will win over the next owner, the villa remaining true and steady while the owner alights or leaves.
Landers will hold an open house from 1 p.m. to 3 p.m., Sunday, Nov. 11. 
Vital Statistics
Address: 7524 15th St.
Neighborhood: Pointe West, Central Village
Year built: 2005
Lot size: 42' by 125'  •  Home size: 1,544 square feet
Construction: Concrete block with stucco
Bedrooms: 2  •  Bathrooms: 2
Additional features: Over-size two-car garage, front porch, covered patio, breakfast bar, ceramic tile, pendant lighting, hurricane shutters, plantation shutters, ceiling fans
Listing agency: Berkshire Hathaway Home Services
Listing agent: Chip Landers, 772-473-7888
Listing price: $229,900