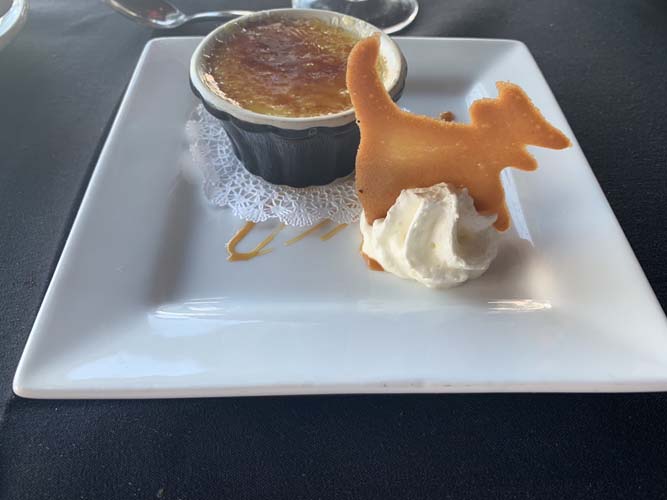 If you have never visited the Yellow Dog Café in Malabar, you want to head there in the next few weeks while they are still offering the Harvest Moon Fall Menu.
You'll want to make a reservation because you'll be competing for a table with the many long-time fans of the Yellow Dog, who recognize that this $35 four-course menu in the off-season is a bone-a-fide great deal.
You also want to get there while it is still daylight, because the Yellow Dog is one of those rare dining spots that combines good food with a drop-dead view of the Indian River Lagoon.
Totally redone after the 2004 hurricanes, the restaurant consists of three charming dining areas: a cozy room overlooking the lagoon and an open kitchen; a more traditional room filled with antiques; and a large downstairs that opens onto an open-air seating area leading to a dock (yes, you can come by boat).
On these nice Florida fall evenings, there's nothing better than dining on the covered porch overlooking the water.  Last Saturday night, we arrived early and were seated at a waterfront table.
While the Yellow Dog was offering several great-sounding specials that evening, we decided to stick with the  Harvest Moon menu.
For the first course, you get to choose from two soups and two appetizers.  My husband ordered the Yellow Dog's signature crab bisque, which he loves, so I decided to try the soup of the day, which on this evening was the chef's riff on a New England clam chowder. The bisque was sumptuous, as always, and I really liked the clam chowder.
Next came a choice of salads, and both my husband and I had a very nice Caesar with just the right number of anchovies.
For entrées on this evening, I chose the grilled portabello mushroom and my husband opted for the potato crusted salmon.
The portabello, stuffed with artichoke hearts, fresh spinach, roasted red peppers and Havarti cheese, was accompanied by Chef Stuart Borton's wonderful rice.  A great vegetarian dish.
My husband's Scottish salmon, encrusted with potatoes and perfectly cooked, was served atop beautiful asparagus spears, the chef's rice, and topped with a lobster saffron cream sauce.
Then to conclude another great evening at the Yellow Dog, along with espressos, I enjoyed the chocolate walnut dog bone brownie with vanilla ice cream and my husband had an excellent crème brulee.
On a visit earlier this fall, I tried another entrée from the Harvest Moon menu – the fresh cod baked in lemon butter topped with some bread crumbs and melted Havarti cheese – and my husband had the peppercorn crusted yellow fin tuna served with delicious Canton noodles and mixed Asian veggies.
We accompanied our dinners on these visits with selections from the Yellow Dog's quite reasonable wine list.
Dinner for two here has never been inexpensive, but with the food portion of your check running only $70 for two while this special (which is good all evening) lasts, you can't beat the dining experience you get for not far into three figures.
I welcome your comments, and encourage you to send feedback to me at tina@verobeach32963.com.  
The reviewer dines anonymously at restaurants at the expense of Vero Beach 32963.   
Yellow Dog Café
Hours: Lunch Tuesday – Sunday 11:30 to 2:30pm; Dinner Sunday & Tuesday – Thursday – 5 to 9pm, Friday & Saturday – 5 to 10pm
Beverages: Full Bar
Address: 905 US 1 in Malabar (1/2 mile north of Malabar Rd)
Phone: (321) 956-3334