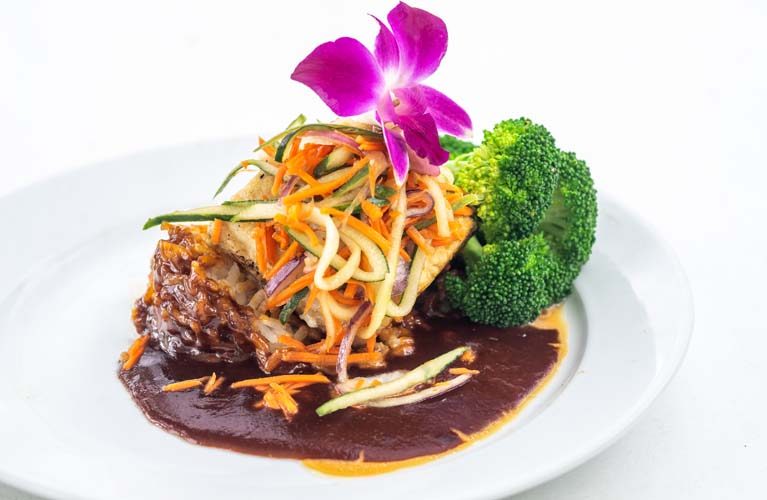 After almost a decade, most every seafood lover within a 30-mile radius of the 12A Buoy knows that the little shack on the edge of Fisherman's Wharf in Fort Pierce is the place to go.
Never mind that the wait for a table – the 12A doesn't take reservations – is frequently as long or longer than the drive from Vero.
You put your name in when you arrive, grab a glass of wine or a craft beer at the bar – the 12A doesn't serve cocktails – and join the throng hanging around outside the front door waiting for the text on your cellphone that a table is ready.
Best that you go, though, on a night when they are not expecting rain. The inside of the 12A – which has kind of a dive bar vibe; no white tablecloths here – is relatively cramped and noisy. And the awnings that cover the outside deck, a spacious area where you can enjoy your meal al fresco, are more effective at shielding diners from the sun than from showers.
When we arrived at the 12A a couple of weeks ago, we found the deck had been closed for the evening in anticipation of a downpour, so the wait for an inside table that night had been a bit longer than usual. But we arrived late (8:15 – they close at 9) so we got a table pretty quickly.
For starters on this visit, I decided to pass up one of my favorite appetizers, the steamed clams, and instead try the 12A's cold gazpacho ($4 for a cup, $6 for a bowl).
Forgoing the steamed clams was a tough choice because they are always wonderful – steamed in a garlic herbed butter and sherry sauce, and served with a chunk of grilled bread perfect for mopping. But the 12A's rendition of gazpacho – a cold soup made of raw, blended vegetables – turned out to be an excellent riff on this classic of Spanish cuisine.
My husband stuck with one of his favorites – the creamy, clam-filled New England clam chowder ($5 for a cup, $8 for a bowl) – which he insists is the best around.
Then for entrées, I went for one of the evening's specials, the blackened golden tile fish ($27), and my husband ordered the evening's fresh catch, swordfish ($25).
My husband's thick piece of swordfish was grilled perfectly, and was served with a large baked potato and asparagus.  His view is that when it comes to preparing fresh seafood, simple is better.
But the 12A always has a couple of innovative preparations on the menu, and sometimes these are great as well. My golden tile was served over a wild mushroom risotto, and was topped with a crab imperial sauce and wilted spinach.  A wonderful dish.
You can always count on finding fresh ocean fish on the menu here. If not swordfish, it might be wahoo or snapper. If not golden tile, it could well be cobia or grouper. And the 12A's plump, juicy scallops are also one of my favorites. Pan-seared medium rare, they just melt in your mouth.
For dessert, there are three homemade choices: a key lime pie, a peanut butter pie, and a fudge brownie a la mode. We concluded this most recent visit with a slice of the mile-high key lime ($5).
If you really like fresh seafood, this is the place. The 12A Buoy is the best in our area.
I welcome your comments, and encourage you to send feedback to me at tina@verobeach32963.com.
The reviewer dines anonymously at restaurants at the expense of Vero Beach 32963.   
12A Buoy
Hours: Wednesday through Monday (closed Tuesdays), 11 am to 9 pm, (10pm Fridays and Saturdays)
Beverages: Beer and Wine
Address: 21 Fisherman's Wharf, Fort Pierce
Phone: 772-672-4524
Photos by: Gordon Radford
Click HERE to see more or buy photos