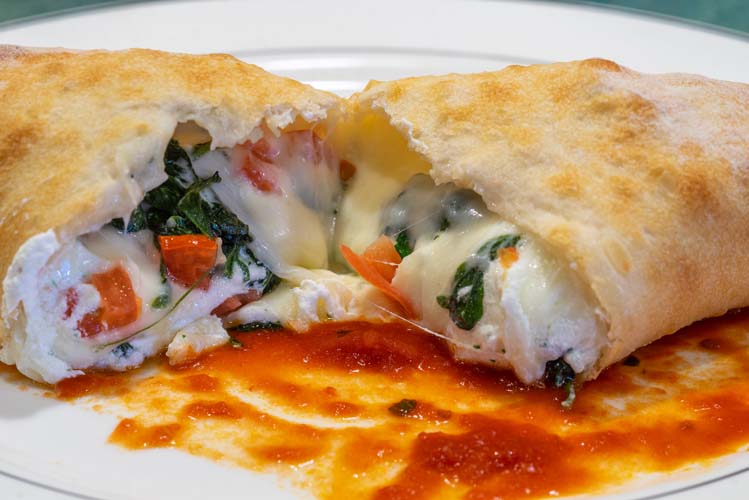 When I began writing this dining column 10 years ago, Vincent's Ristorante on Miracle Mile had just celebrated its 30th anniversary.
Somehow, in the years since, we never got around to reviewing it. We would stop there from time to time to take home a Sicilian pizza after learning through word-of-mouth that its thick, almost focaccia-like crust is the best in the area. However, we never really thought of Vincent's as a place to go for a sit-down dinner.
But any restaurant that makes it to its 40th anniversary in the same location under the same family ownership obviously has a lot going for it. It deserves a review!
So last Friday, a group of six of us presented ourselves there at 7:45 (you wouldn't want to arrive much earlier unless you want to stand in line), and soon were settled in at a round table in mid-dining room for a family-style Italian dinner.
To start, we decided to share a couple of orders of calamari fritti ($11) and also thought we would try a special spinach artichoke dip. The cheesy dip, served with colorful tortilla chips, was flavorful though rather dense, but the calamari were light and tender, perfectly complemented by a marinara sauce.
We then moved to the soup and salad course, which is included with entrées.  Most of the members of our party had large garden salads, but I opted for a cup of the Italian wedding soup. I loved it!   Absolutely delicious.
Then for entrées, I ordered the "shrimp Vincent's" ($19), my husband had the linguini with little neck clams ($17), one of our companions went for the chicken parmigiano ($16), another picked the ravioli alla vodka ($15), a third chose the veal parmigiano ($18), and the fourth opted for the 9-inch personal pizza with pepperoni and black olives ($8).
In my dish, the shrimp were served with fresh tomatoes and arugula in a garlic, tomato and Madeira wine sauce, all tossed with penne.
I enjoyed the veggies and pasta, but thought the Madeira sauce imparted a bit too sweet of a taste to the shrimp.
My husband's little neck clams were extremely tender, and were served in a wonderful garlic, oil and white wine sauce. Both of our friends were very enthused about their parms.
The ravioli alla vodka sauce was beautifully presented, with the raviolis perfectly cooked al dente and served with a light creamy marinara with a touch of vodka. And finally, the personal pizza – a Napolitano-style thin crust pizza – was pronounced crisp and delicious.
For dessert, a couple of our friends had just enough room to try the tiramisu and the cheesecake. They declared it a perfect ending.
In fact, only one thing was missing from what otherwise would have been a perfect evening. Late in the meal, my husband spotted another table being served some sumptuous looking homemade garlic rolls.
It says right on the menu these have to be ordered separately, and I was astonished earlier that he had missed them.  But now that he knows, I am confident we won't be waiting 10 more years to pay another visit to Vincent's.
I welcome your comments, and encourage you to send feedback to me at tina@verobeach32963.com.
The reviewer dines anonymously at restaurants at the expense of Vero Beach 32963.   
Vincent's Ristorante e Pizzeria
Hours: 11 am to 9 pm (10 pm Friday and Saturday), Closed Sundays
Beverages: Beer and Wine
Address: 510 21st Street, Vero Beach
Phone: (772) 569-4333
Photos by: Gordon Radford
Click HERE to see more or buy photos