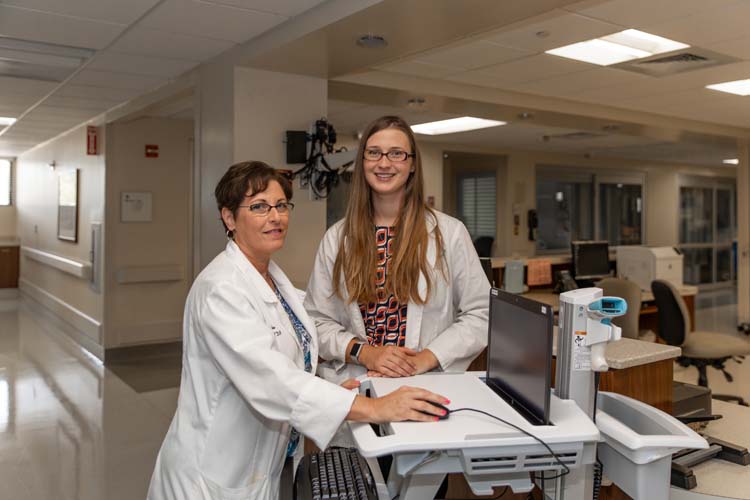 Sebastian River Medical Center registered dietitians Brittany Robinson and Laurie Beebe just dropped a bombshell on this Mecca for retirees.
Malnutrition, they say, is far more commonplace on the Treasure Coast than most people realize – especially among hospital patients in general and seniors in particular.
"I would say 70 percent of our patient population are patients that aren't eating because they're sick or have decreased energy and are losing weight, but not knowing why," says Robinson, the hospital's clinical nutrition manager.
And the problem is not confined to the Treasure Coast.
Becker's Hospital Review reported in May that, nationwide, up to "50 percent of all patients are malnourished upon admission to a hospital."
A second article in the same publication states "the impact of malnutrition will no doubt become more prevalent as the population ages and has more chronic diseases. About half of all U.S. adults – 117 million people – have one or more chronic health condition, according to the Centers for Disease Control. As this group ages, they are at even higher risk for poor nutrition."
Becker's also takes aim at the economic impact of malnutrition in hospital patients. "The consequences of malnutrition," it says, "can include longer hospital stays, more frequent readmissions, increased costs of care and higher risk of complications such as pressure ulcers, infections and falls."
Beebe and Robinson agree, and point to patients with kidney disease, diabetes, heart disease and wounds as being among the prime candidates for the Sebastian hospital's medical nutrition therapy program or MNT.
MNT is an evidence-based medical approach to treating certain chronic conditions through the use of individually-tailored nutrition plans – ordered and approved by a primary care physician – and implemented by registered dietitians like Robinson and Beebe.
The National Institutes of Health calls MNT "critical for patients with chronic kidney disease," and adds, "it is vital to engage and refer patients to a registered dietitian," since MNT can "delay chronic kidney disease's progression, prevent or treat complications and improve the patient's quality of life."
"Another really common diagnosis here," Beebe interjects, "is congestive heart failure. And if people don't watch their sodium intake, they can come in month after month after month because when they eat a lot of salt, that holds fluid in and it just starts swelling up … making it difficult to breathe."
And then there are cancer patients.
According to Beebe, "cancer is a big one. Lots of people come in and one of the symptoms of cancer is a huge, quick weight loss. So we're trying to get them strengthened up so that they can go through radiation, chemotherapy or whatever their treatments are and just to get a little stronger again."
Robinson adds "a large part of what we do is educating people, so that when they go home they understand how to read labels and go grocery shopping and stick to their recommendations – whether it's for diabetes, kidney disease, cancer or congestive heart failure.
"We recommend people eat foods they like. We've never told somebody there's something you have to eat. But we do encourage people to find things from a list we provide of what they can have and eat things that they enjoy."
And while Robinson jokingly interjects "I find that men particularly don't like vegetables at any age," these two often have bigger fish to fry. Or, more accurately, cooking lessons to teach.
"I have one lady," Beebe explains, "who didn't know you could cook chicken a different way than frying it. Her parents fried it, she fried it and she said, 'There's another way to cook chicken? Tell me about it so I can do it.'"
Whether it's exploring new cooking options, employing herbs and other seasonings in lieu of salt or any other nutrition-related topic or technique, highly-trained registered dietitians like Beebe and Robinson can help open doors to a healthier life.
Robinson and Beebe are part of the medical nutrition therapy program at the Sebastian River Medical Center at 13695 U.S. 1. The hospital's phone number is 772-589-3186.