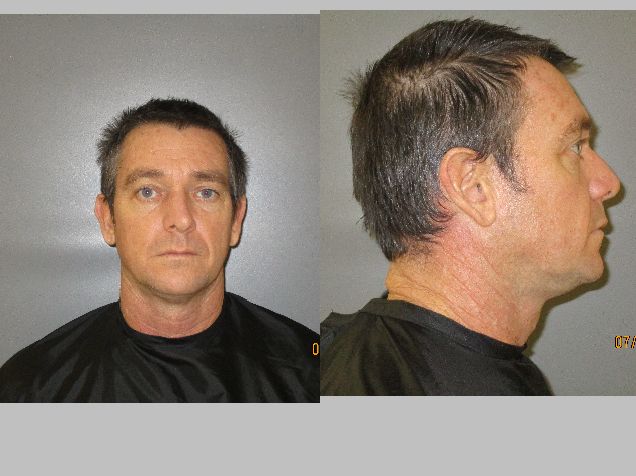 INDIAN RIVER COUNTY — A 44-year-old man suspected of taking part in a scheme along with his co-worker to burn his stepfather's truck last October to collect insurance money was arrested over the weekend, authorities said.
The man – identified as Brian Lee Caswell – told deputies the Toyota Tundra had overheated. Caswell agreed to pay his co-worker, Alex Spivey, $1,000 to help burn the truck because it would cost too much to fix, reports show.
The co-worker was to be paid after Caswell got cash from the insurance claim.
Both men blamed the other for setting the fire, reports show. Spivey sustained serious burns to his arms and legs.
Sheriff's deputies arrested Caswell, of Deltona, on charges including arson resulting in serious injury, giving false information to law enforcement during an investigation, false report to law enforcement, burn to defraud insurer and arson. Caswell is being held at the Indian River County Jail on $105,000 bond.
Deputies and Indian River County Fire Rescue crews responded to a pickup engulfed in flames about 3:30 p.m. Oct. 18 in the 7300 block of 8th Street. The vehicle was parked in a grove off the roadway.
The next day, deputies spoke with Caswell's stepfather who owns the pickup. The stepfather told deputies Caswell had the vehicle and was working at the time of the fire.
Caswell told deputies he was driving the vehicle earlier that day along with a passenger and co-worker, Spivey. Caswell said the pickup experienced a water pump issue and that he drove it to the job site.
Deputies said Caswell initially told them someone must have stolen the vehicle after he parked it, but then admitted he and Spivey discussed "firebombing" the vehicle.
Caswell said later, he, his girlfriend and Spivey went to Walmart, got a container and filled it with gasoline.
Caswell then drove back to his "job site."
Spivey, who had the gasoline container, got into the Toyota Tundra and looked for a place to set the fire. Caswell and his girlfriend followed Spivey in a rented pickup.
All three went to a field, where the Tundra was set on fire, reports show. Spivey, who was burned, got into the rental pickup and was driven to the hospital by Caswell, authorities said.
Nine months after the investigation started, deputies arrested Caswell. Caswell has an arraignment at 8:30 a.m. August 15, court records show.
Spivey is being held at the Orange County Jail on other unrelated charges.