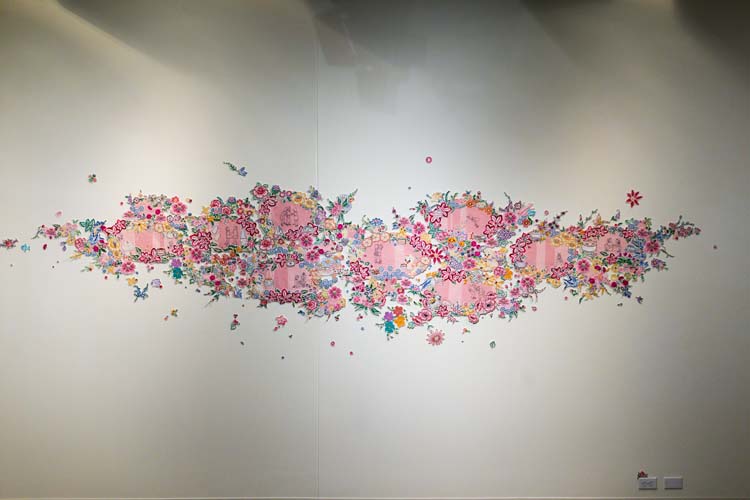 Aprons and embroidery: Didn't those go out with ant farms and beehive hairdos? At first glance, the two exhibitions at Florida Institute of Technology's Ruth Funk Center for Textile Arts would appear to glorify the bad old days of Woman's place: in the home, preferably barefoot and – well, you know.
Don't be deceived. "Apron Strings: Ties to the Past" and "Maggy Rozycki Hiltner: Not Quite Sew" are two exhibitions you don't want to miss.
On view through Aug. 11, both exhibitions deal with history. Apron Strings traces the 20th century evolution of its subject from workaday cover-up to frilly hostess accessory. Not Quite Sew outlines Maggy Hiltner's personal history from not-so-innocent childhood to married (and harried) mom in embroideries that combine vintage pieces of fancy work with her own stitchery.
Keidra Navaroli, assistant director of FIT Galleries and curator of the Ruth Funk Center, explains that the idea of an exhibition featuring aprons is off-putting to some. Only two aprons on display are intended for Him (in his role as backyard grill master); but ultimately, this exhibition is all about Her.
"We had a women's group whose members at first did not want to come, because they thought it was regressive," says Navaroli.
She adds that after touring the show and finding that the aprons in it were discussed as artifacts from another (long-past) era, the group was "pleasantly surprised."
The traveling exhibition from Mid-American Art Alliance features aprons from several unnamed collections. The earliest apron (c. 1900) is a long, white cover-up from the days when it was more practical to scrub a soiled apron than an entire skirt. That crochet-edged number is accompanied by a few others that represent pre-World War II protective garments.
The bulk of the exhibition, however, focuses on aprons from the late 1940s through the garment's golden age in the 1950s, when women were essentially "dressing up to stay at home," according to Navaroli.
After the war "there was this monumental shift in technology," she says. Navaroli explains that women – most of whom still bore sole responsibility for household laundry chores – increasingly took advantage of such innovations as the electric wringer washer and wash-and-wear (synthetic blend) fabrics. Modern conveniences like those gave homemakers more time to play the lady of the house, rather than its drudge.
As women's aprons became less of a splatter guard and more of an accessory, they became smaller and frillier. A woman might have a drawer full of them for different occasions, from presiding over a coffee klatch in the kitchen to a cocktail party in the living room.
The current exhibition boasts aprons for Christmas and Valentine's Day, aprons with flowers and polka-dots and rickrack, aprons made of handkerchiefs, tulle and lace. Some itsy-bitsy, wedding-veil sheer ones on view ensured that their wears looked sexy while presenting hubby with his after-dinner martini – with or without the little black dress underneath.
Aprons were the souvenir T-shirt of their day, says Navaroli. Examples that commemorate visits to California and Portugal are in the show, as well as a Seminole-made geometric beauty from Florida. That one was made in the 1960s, a high point for tourism on Seminole reservations, according to Navaroli.
"Seminole women were turning out objects they though white people wanted to buy. They used traditional patchwork techniques to make a garment that is completely outside what their culture would wear."
Outsiders, she adds, were attracted to such a memento: one that spiced the comfortingly familiar with exotic allure.
Because aprons are often associated with home cooking and the memorable aromas in Mom's kitchen, an educational adjunct in the gallery is a station where you can take a sniff from any of five canisters containing unidentified odors. The object is to write what the odor reminds you of on a sticky note that you place behind the canister that provoked your memory.
Enthuses Navaroli, "It's been a fun way to engage people, to talk about the collective experiences of our audience."
A dress-up/selfie station between the gallery area that holds Apron Strings and those that hold Not Quite Sew invites you to try on an apron while holding a cross-looking "Mad Mom" mask over your face.
The source of the childishly scrawled faces on the masks are found nearby, in seven portraits of harried mothers from Hiltner's continuing "Mad Mom" series. Inspired by a child's portrait of "Mother," Hiltner embroidered similarly untutored-looking faces atop delicate line embroideries of 1950s-style moms doing things that moms do: juggling plates, tending children and walking the dog. As a segue from the light-hearted history of Apron Strings to the heavier material of Hiltner's personal musings, it is effective.
All the works in Not Quite Sew are on loan from Billings, Montana-based Hiltner, whose artist's statement in the gallery explains that she buys vintage embroideries (she calls them "discarded treasures") to reuse in her art works. She cuts the hand-stitched flowers and cute animals from the tea towels, dresser scarves and samplers she finds, and reunites them in all their kitschy glory with line-embroidered "drawings" of her own. The latter feature boys and girls engaged in investigations, adventures, and the occasional misfortune.
The result, says Hiltner, are "images that at first appear whimsical or vibrantly happy, but on closer inspection are not quite so. Sometimes it's a malicious undertone to the relationships, or a lack of self-control on the part of the characters, or maybe an otherworldliness hidden in the everyday."
All the artworks on display are autobiographical, some of them intimately so.
Perhaps the most troubling piece in the show is "Providence" of 2011. The artwork's title refers to the Pennsylvania village where Hiltner grew up, and where her parents spent much of their time at the local bar. In the label next to the artwork, Hiltner refers to her eventual "escape" from her childhood environs, and wonders if she is doomed to repeat her parents' mistakes.
The work's predominant color is a green fabric background against which her vintage embroideries are stitched. There, a colorful, anthropomorphic array of puppies, kittens and birds gambol – and tipple – from jugs marked "XXX." In the green reserves between them, the figures of boys and girls are traced in fine black line work. They deal with the drunken hilarity of the animals in different ways. One boy drinks from a jug himself, while two girls wade in an overflow of booze: one of them pours liquid into the stream from her boot.
An artwork made especially for the exhibition is "Devil's in her Pocket" of 2018. In a nod to the Apron Strings show in the adjoining gallery, Hiltner constructed a black apron edged with found floral embroidery, over which she stitched stylized flames. Three embroidered red devils protrude from the apron's pocket.
"We asked her to make her version of an apron for this show. This is what she made specifically for us, for the show," says Navaroli.
"We really like this one."