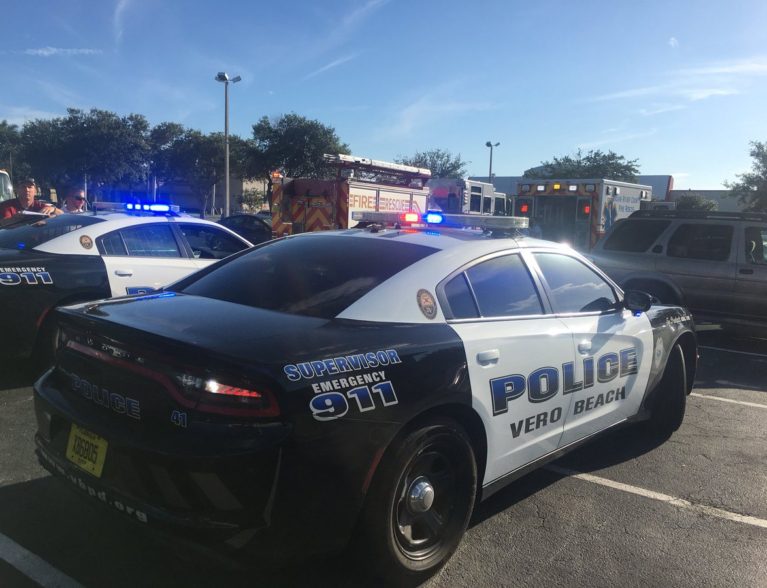 INDIAN RIVER COUNTY — Police have confirmed the identity of a man whose body was found in a vehicle Tuesday afternoon not far from a Kmart store at a shopping plaza.
The 36-year-old man was identified as Dennis K. Flynn, officers said. Flynn's body was taken to the Medical Examiner's Office in Fort Pierce to determine an exact cause of death. Flynn's address was not available.
Officers found aerosol cans in Flynn's car, but could not confirm Wednesday if he actually huffed the substance from the cans, said Officer Megan DeWitt, spokeswoman for the Vero Beach Police Department.
Police responded to reports of an unresponsive man in a vehicle about 5 p.m. Tuesday at the Indian River Plaza parking lot, 1537 U.S. 1. Employees at the Healthway food store made the 911 call.
The store is just a few feet away from the Kmart.
Officers arrived within minutes and saw the man, later identified as Flynn, unresponsive in the driver's seat of a red two-door Chevrolet Monte Carlo, police said. The car was not running.
Officers, Indian River County Fire Rescue and emergency medical personnel tried to revive Flynn, but he was pronounced dead at the scene, police said. Flynn has had prior run-ins with law enforcement officers.
Flynn was arrested in June 2017 after he was seen huffing a two-pack of Dust-Off dust cleaner in a Walmart parking lot, court records show. Deputies said Flynn stole the items from store, located at 5555 20th Street.
Police also arrested Flynn in September 2015 after witnesses reported seeing him repeatedly inhale an aerosol spray at Youngs Park on Park Avenue, reports show.
For the two arrests, prosecutors found Flynn guilty of petit theft, disorderly conduct and inhalation ingestion of a harmful chemical substance, court records show.
Witness Reaction
An employee at the HealthWay food store said she and other employees went to check on Flynn in his car several times Tuesday. The employee, who declined to give her name, said Flynn had been sitting in the car for several hours.
"He verbalized that he was okay and did not need help," said the distraught employee.
But, when employees checked on Flynn again about 5 p.m. Tuesday at the plaza, he was unresponsive. The employees then called 911, and later learned Flynn died at the scene.
"It's sad. I feel terrible for his loved ones," the employee said. The employee said she remembers seeing an aerosol can on the front seat of Flynn's car.
The employee said there are a lot of homeless people in the plaza.
"For all we know, he could have been a homeless person just taking a nap in his car," the employee said.
No further information was available.