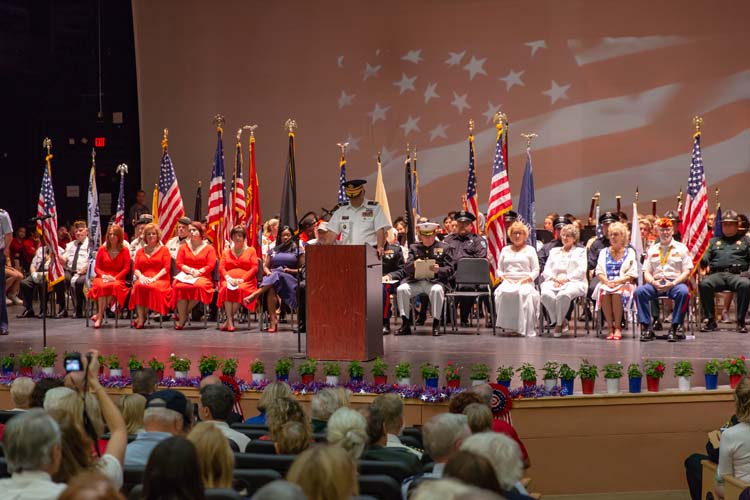 The Vero Beach High School Performing Arts Center overflowed with patriotic pride last week as people gathered on Memorial Day to pay homage to the American servicemen and women who died while serving our nation as members of the armed forces.
The threat of thunderstorms caused this year's annual Memorial Day Ceremony, typically held at Veterans Memorial Island Sanctuary, to be moved indoors, but it in no way diminished the sentiment behind the sacred day.
"All across our nation and around the world, our citizens and veterans are gathering to honor America's finest, the men and women who gave their lives in combat," said retired U.S. Army Col. Darryle "Sam" Kouns in his welcome address. "All gave some and some gave all."
A moving performance of the National Anthem by U. S. Army Spc. Telly Antona set the tone for the morning, followed later by a patriotic medley played by the Vero Beach High School Band and "Amazing Grace" sung by The Dolls. Adding to the poignancy of the ceremony, Michael Hyde, who served in the Merchant Marines, played the bagpipes and bugler Duke Scales added a military cadence with "Taps."
As attendees arrived, they passed by the Boots on the Ground Memorial organized by the Vero Beach Veterans: Next Generation, a display of 300 boots representing the 6,959 military lives lost since 9/11.
Three Gold Star Family members shared emotional recollections of loved ones who made the ultimate sacrifice.
Michelle Dale spoke of her son, Army Cpl. Dale Kridlo, who was killed in action in Kunar Province on Nov. 7, 2010. She now works with various veterans groups to celebrate her son's life and honor his service, noting that the time spent with veterans and fellow Gold Star Families helps to keep her son's memory alive.
Wanda Johnson spoke with pride of her brother, Army Pfc. James Ohlinger, who was killed in Vietnam on Nov. 19, 1966, recalling that in the last letter she received, he had confided plans to propose to his girlfriend.
"Remember the ultimate sacrifice that so many have given and do what you can to make our community a better place for our veterans, returning troops and their families," said Johnson, imploring attendees to support local veterans groups.
Linda Schumann, president of the Indian River-St. Lucie County Chapter of American Gold Star Mothers, lost her son Army Spc. Jordan Schumann on July 5, 2011, in Paktya Province, Afghanistan.
"We take over their service to the country as Gold Star Mothers," said Schumann. "We're just moms trying to give back in our sons' name in honor of them."
Lt. Gen. Robert Winglass, USMC Ret., readily accepted the opportunity to speak, noting "patriotism just swells" in Vero Beach. The former chief of staff for installations and logistics at Marine Corps headquarters, retired after a 35-year military career, during which he at times commanded units with as many as 10,000 service people.  Winglass led 350 marines and sailors in response to the 1983 barracks bombing in Beirut.
"Today we recall with reverence and a great deal of thanks, the extraordinary sacrifices that were made by American men and women on the fields of battle in the air and on and under the sea," said Winglass.  "Thousands of young, heroic and courageous American youngsters really paid a tremendous price, and they paid that price for you and for me and for America."
Noting that service personnel have faced anti-aircraft fire, missiles, small arms fire, landmines, booby traps and mortar fire, he added, "in the words of Gen. George S. Patton, 'We should thank God that such men lived.'"
Photos by: Denise Ritchie
Click HERE to see more or buy photos