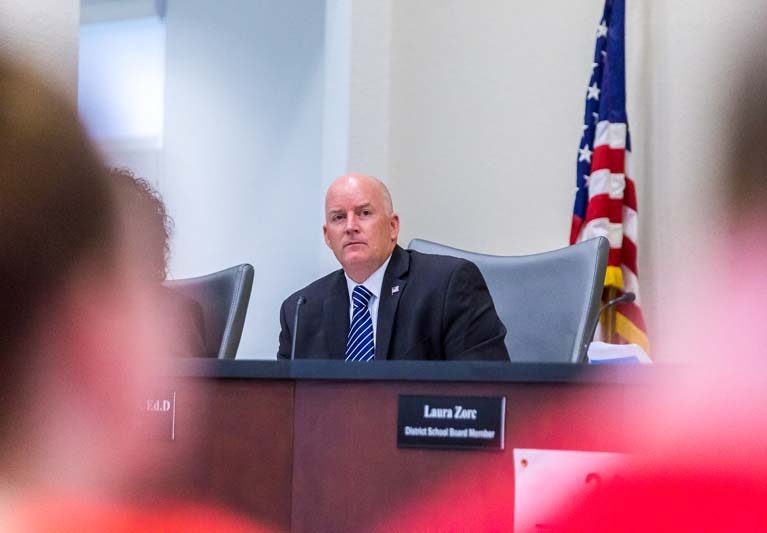 Community outrage and the pleas of nonprofit organizations did not sway the Indian River County School Board, which supported a decision by District Superintendent Mark Rendell to charge three groups that help kids $78,000 to bus students to afterschool programs.
Adding insult to injury, Board Chairman Shawn Frost rearranged the agenda at the meeting where the matter was considered, pushing public comment to the end and making people wait more than three hours to speak.
Because of that maneuver, the crowd thinned, and the board did not have to listen to many of those who came to support Dasie Bridgewater Hope Center, the Boys and Girls Club and Gifford Youth Achievement Center.
The district has partnered with the groups for decades, transporting kids to places where they can engage in beneficial activities with supportive adult supervision, with the belief these activities help students do better in school and life.
Rendell, who oversees a budget in excess of $280 million, said he examined contracts dating back to 2012 that say the nonprofits will pay for transportation.
"We can't afford to subsidize these costs," Rendell said.
Adam Bolinger, chairman of the board of directors at Gifford Youth Achievement Center said, "There has been no conversation; we were told to take it or leave it," referring to the $78,000 charge for transportation services.
"Laura Zorc is the only one who decided to meet with us and talk to us about it," he added, refuting School Board members Tiffany Justice and Dale Simchick's claims they had been unfairly criticized on social media for not caring about the nonprofits.
Zorc said it should have been the board's, not Rendell's, decision whether to charge the organizations for busing kids to afterschool programs, but board member Charles Searcy said, "We hire him to handle day-to-day operations. We are out of bounds. If we don't like the job he's doing, we should fire him."
Searcy, Simchick, Frost and Justice said they were concerned the district could be sued for favoring the three organizations over other nonprofits that also provide afterschool programs, for which transportation is not provided.
"They are proven partners," Zorc contested. "There are no other partners that have been with the district for over 20 years. We can decide who we want to partner with."
Bolinger and GYAC board member Dane Ullian pointed out the district came to them more than 20 years ago and asked for help to improve black students' graduation rate, which has gone from 20 percent to 80 percent during that time.
"What we're providing is not a courtesy, it's a necessity," Ullian said. "You get them there and we'll do the rest."
Despite Zorc's objections, the board supported Rendell's decision.