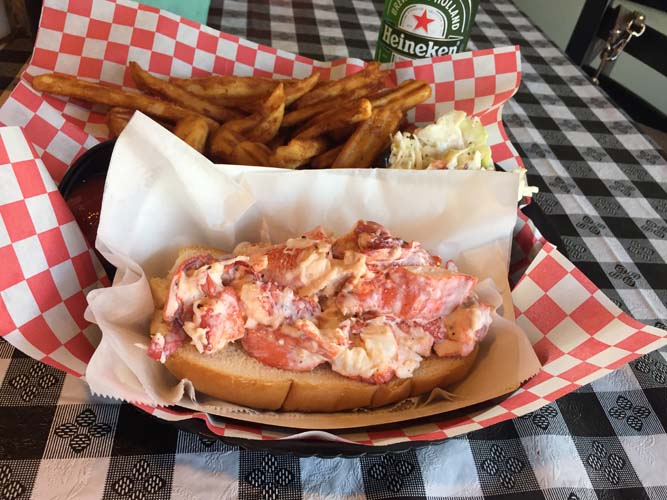 Recently, I was glancing through a copy of the St. Lucie Voice (the weekly newspaper just to our south; Vero Beach 32963 Media publishes it) and two words in an ad for Lola's Seafood Eatery caught my eye – "belly clams."
As regular readers of this column know, my Boston-born husband has dragged me from Melbourne Beach (the New England Eatery) to Jensen Beach (the New England Fish Market) in search of fried whole belly clams.
You don't get authentic versions of that staple of life in Vero Beach, he contends.
So no sooner had I said the magic words "belly clams" to my husband than we were on our way to St. Lucie West to try Lola's.
From the outside, the restaurant – set in a strip mall next to a mattress store – doesn't look like much. But inside, several dozen people were seated at high-top and low-top tables in a pleasant dining space, clearly enjoying their meals.
We had heard that Lola's was a counter-service restaurant – place your order and servers bring it to your table – so we went to the counter, where we stood in a bit of a daze grappling with the wide variety of dishes offered on the menu boards. (We subsequently were told you can simply be seated, and the very pleasant servers will take your order at your table.)
After a few minutes, my husband decided to start with the New England clam chowder (surprise!), and I went for the grilled octopus salad.
Lola's New England clam chowder – which certainly had the requisite number of tender clams and potatoes – was very good, though my husband would have voted for a slightly thicker, creamier version. But it got more than passing marks.
The Octopus salad, on the other hand, was fantastic – grilled octopus that was both tasty and very tender (not easy to achieve) set amid a salad of pickled onions, hot peppers, tomato, and corn and black bean salsa.
Then for entrées, my husband ordered the basket of fried belly clams ($19.50) and I opted to try the seafood bowl ($17.50).
The fried clams more than lived up to his hopes – medium-sized belly clams, not overly breaded, succulent and tasty. They were served over bottleneck fries.
My seafood bowl proved an excellent choice: mussels, shrimp and clams tossed with linguini pasta, in a very tasty red clam sauce, served with two cheeses, fresh basil, and a couple of slices of grilled bread.
As you might guess, we did not have room for dessert – though we since have heard a lot of good things about Lola's house-made beignets (had we known about those, doubtful we could have passed them up at Mardi Gras time).
But this is an excellent seafood restaurant. It's not fancy – the clam chowder was served in a styrofoam bowl – but you get real knives and forks, real glasses for your wine, and real plates for your entrees.
Best of all, they take reservations – and if you are thinking of trying Lola's on a Friday or Saturday, that would appear a very good idea.
Last weekend, we decided to go back at lunch time and try Lola's lobster roll ($19.90). This turned out to be the real deal – large chunks of sweet knuckle and claw lobster meat, thinly coated with mayonnaise, stuffed into a top-split hotdog bun lightly toasted in butter. Very tasty, and if the lobster had been freshly cooked, it would have been perfection! Well, give it an A-minus.
But for those in need of a Massachusetts seafood fix (much of what they serve comes from New Bedford), Lola's is less than an hour from Vero – and joins restaurants with the word "New England" in their name as worth a try.
I welcome your comments, and encourage you to send feedback to me at tina@verobeach32963.com.
The reviewer dines anonymously at restaurants at the expense of Vero Beach 32963.  
Lola's Seafood Eatery
Hours: Daily, 11 am to 8:30 pm (9 pm Friday and Saturday)
Beverages: Beer & Wine
Address: 962 St. Lucie West Blvd., Port St. Lucie
Phone: (772) 871-5533