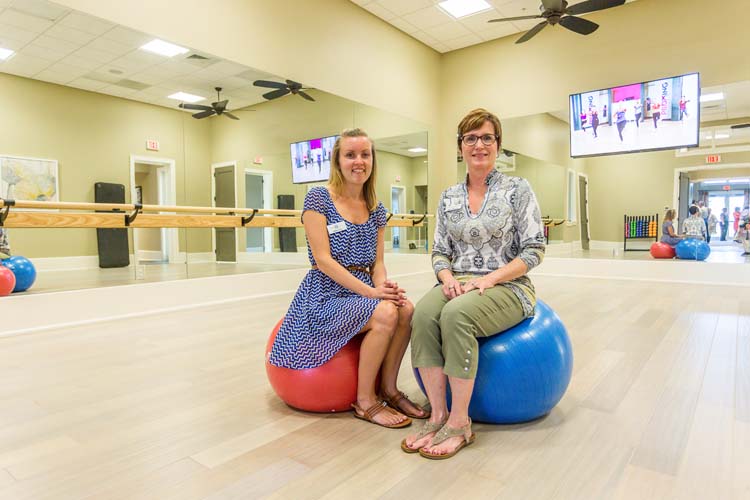 Harmony Reserve held the grand opening of its 13,000-square-foot, $4.5 million clubhouse Feb. 6, with Karen and Chuck Mechling, consultants for the 55-plus residential resort community, hosting a crowd of impressively fit seniors.
The development group was willing to sink millions into a full-featured, upscale clubhouse because it sees the facility as a key driver of sales in the 400-home community, which is located on a 128-acre tract on 33rd St. between 58th Ave. and 66th Ave., half a mile north of the Indian River Mall.
The Mechlings studied the local market and took Woodfield, the only other senior-lifestyle community in the county, as a "roadmap" for Harmony Reserve, Karen Mechling said.
Woodfield, which built a 14,000-square-foot clubhouse to attract active seniors when it opened more than a decade ago, was "the most successful, No. 1-selling community in Indian River County, ever, in terms of velocity of sales," according to Mechling.
About 13 years old now, Woodfield's winning formula restricted residential sales to those 55 years and older who didn't just want a home, but to socialize and play with fellow homeowners within a resort-like gated community. The Mechlings realized it was the only 55-and-over community in the county and believed the market was ripe for an updated version.
"We're selling lifestyle," Karen Mechling said, noting that the clubhouse is integral to providing the social and physical activities senior homebuyers want.
Built in the Old Florida style by Toby Hill of the Hill Group, who is one of the five investors in the development group, the clubhouse has front porches, metal roofing and rooms that feel like "an extension of your living room." Tony Donadio, of Donadio and Associates of Vero Beach, was the architect.
The front façade is rather grand, with two-story columns and an expansive porte cochere. The front hall lets on to a "belvedere tower," Chuck Mechling said, and light pours in from transom and double-stacked windows. Meeting rooms have 12-inch base board, coffered ceilings and soft-touch custom cabinets.
The bar and fireside lounge was the place to be during the Super Bowl, residents watching it together on the big-screen television. They had a best-chili contest and shared their private stocks of alcoholic drinks from their custom-made liquor drawers emblazoned with their names. The antique bar, with carved lions rampant, is topped with a leather-like counter and has a brass foot rail.
The universal machines in the weight room would please Arnold Schwarzenegger and the "movement studio," complete with ballet barre, mirrors and cork-lined floor, would please senior fitness guru, Miranda Esmonde-White, who can be piped in over the large screen.
A demonstration kitchen large enough for classes, with a camera capturing culinary techniques shown on a large overhead screen, has already seen use. "The foodie thing is huge," Karen Mechling said.
Local chefs and caterers will give classes off-season, but homeowner gourmands are already giving classes to each other. Caterers were consulted on equipment, flow and layout from parking lot to dining area.
Outside, clubhouse grounds include a summer kitchen with granite counters. It is adjacent is a large, resort-style pool designed to accommodate simultaneous aerobics class and lap swimmers. The spa is nestled among an oasis of palms for privacy.
Eight pickleball courts are set off to the side with a covered pavilion, designed to handle pickleball tournaments. A loggia and fireplace will give socializing outside in the winter a romantic setting.
"It's the nicest thing on the mainland," Karen said. "There isn't anything else like it."
Harmony Reserve will have about 300 single-family homes and 100 villas, most priced between $250,000 and $350,000, when all four phases are completed. Holiday Builders and Maronda Homes, exclusive builders in the subdivision, have sold all but two of the 84 lots in phase one and about 50 homes are already occupied.
Karen Mechling said pricing the club membership correctly has been a key to attracting buyers. Each homeowner will pay $7,000 upfront, along with yearly dues of about $3,600, "which is extremely reasonable and unmatched in the area for what you get."