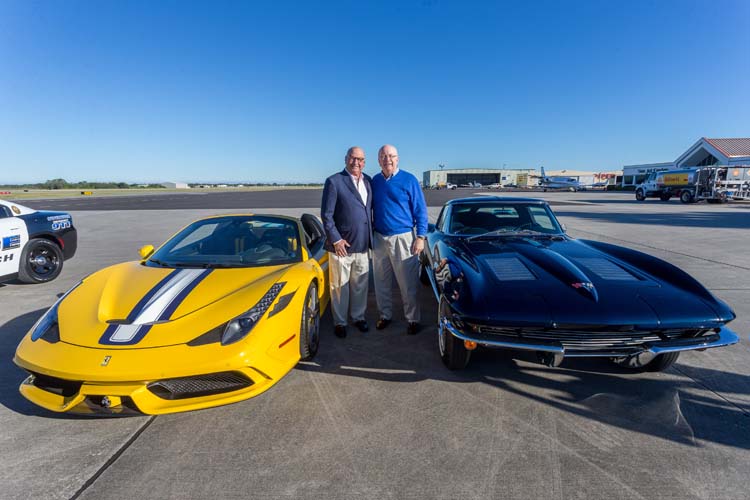 Neither Ron Rosner nor Gordon Stewart could recall exactly when they met for the first time, but the two car guys were fairly certain it was on a golf course.
"I would guess it was 10 years ago," Stewart said.
Said Rosner: "I'm pretty sure it was at John's Island."
Which makes sense: Both are longtime residents of the seaside community and both are avid golfers. In fact, Rosner and Stewart teamed to win the club's member-member tournament in 2014.
They also shared similar business backgrounds – and a fascinating hobby.
"We both owned car dealerships and we both were car collectors, so, along with our love for golf, we had a lot in common," Rosner said. "That's probably why we hit it off right away."
Even now, with Rosner and Stewart both operating specialty dealerships in Vero Beach, they see themselves as friends, not as competitors in selling cars in their collections.
"If anything," Stewart said, "I'd say we complement each other."
And, really, they do.
Stewart, born and raised in the Detroit suburb of Grosse Pointe, sells primarily American-made, fully-restored classics, specializing in muscle cars, especially from the 1960s and '70s, along with Chevrolet Corvettes from the 1950s through the current decade.
Rosner, a New York City native, sells primarily high-end, vintage and exotic imports, such as low-mileage luxury vehicles made by Mercedes, Porsche, Audi, BMW, Jaguar and Lexus, as well as rare, investment-grade cars from manufacturers such as Lamborghini, Ferrari, Maserati, Aston-Martin, Rolls Royce and Bentley.
"If someone contacts him and is looking for something that's not in his bailiwick, he sends them to me," Stewart said, "and I do the same for him."
Said Rosner: "It's all very amicable. We've even bought cars from each other."
That's what collectors do.
And though Rosner and Stewart spent most of their adult lives as car salesmen – both owned new-car dealerships in multiple states – their specialty motorsports businesses are a labor of love.
"For Ron and I," Stewart said, "it's as much a hobby as a business."
But it is a business.
Motor City Classic Cars occupies a state-of-the-art, 16,400-square-foot showroom located at 4910 42nd Place, off 41st Street between 43rd and 58th avenues, where Stewart stores a 50-car inventory worth more than $3 million.
His collection features cars and trucks ranging from a 1929 LaSalle 328 convertible coup to a 2015 Corvette Z06 3LZ and includes Chevy Camaros and Chevelles, Pontiac GTOs, a Ford Thunderbird and Mustang, and Corvette models dating back to 1958.
"I've been in the car business all my life," said Stewart, 72, who still owns three Chevy dealerships – in Tampa and Orange Park in Florida, and in Garden City, Michigan – and a Toyota dealership in Hoover, Alabama. "That's how I developed a fondness for cars, particularly American classics.
"I've been collecting cars for about 30 years."
Having lived in Vero Beach since 1994, he brought Motor City Classic Cars here two years ago.
Rosner moved Rosner Motorsports from Virginia to Vero Beach two months ago, setting up shop at a made-over, 30,000-square-foot warehouse near the Vero Beach Regional Airport, on Flight Safety Drive, across Aviation Boulevard from the entrance to Historic Dodgertown.
"I had the Motorsports operation in Fredericksburg, but since I spend seven months of the year in Vero Beach, I decided we should move it here," said Rosner, 70, who grew up in Queens, New York, moved here in 2003 and has lived at John's Island for the past 11 years.
"We closed on the warehouse in August, got our dealership license from the state in October and we're open for business."
He estimated the value of his 50-car collection at more than $7 million.
Like Stewart, Rosner said he developed his love for cars while selling them – first as a salesman, then as the general manager of a dealership, and finally as the owner of more than a dozen dealerships.
Rosner still has stakes in two: He owns Rosner Chevrolet in Melbourne and is a partner in a Hyundai dealership in Greensburg, Pa.
"I've been in the car business for 47 years, and I've always appreciated very rare cars," said Rosner.
Among the classics for sale in his showroom are a 1963 Rolls Royce Silver Cloud III Mulliner Drophead convertible coupe – one of only 12 in the world – and a 2005 Ford Thunderbird, the last year of that nostalgic line.
The cars in Rosner's fleet range in price from $20,000 to $900,000, and he expects to bring in some worth $1 million.
Like Stewart, Rosner sells his cars nationally and internationally, relying almost solely on the internet to connect with potential buyers.
"It's an internet-driven business," Stewart said. "These aren't impulse buys. People spend a lot of time researching what they want."
Al Shahamat, Rosner's hand-picked and personally trained general manager, said the dealership acquires much of its inventory from collectors, either through sales or trades, so the cars have low mileage and have been well cared for.
"We'll eventually get to 80 or 100 cars, and we'll be doing more than selling them," Shahamat said. "Eventually, we will offer concierge service, where we'll provide pickup and transportation of the vehicles in an enclosed truck, perform the service needed, then return the vehicle.
"We also plan to offer storage, financing, leasing and consignment sales," he added. "And we also buy and trade cars. What we're doing is different from anything else around here."
Certainly, that's different from what is offered by Motor City Classic Cars, which doesn't offer servicing. Instead, Stewart builds his inventory with cars that don't require any type of restoration.
"We don't do restoration or servicing," Stewart said. "We deal with only restored vehicles. Those are hard to find. There are a lot of cars out there, but not many that are fully restored.
"I'm a collector and a dealer, so everything is for sale," he added. "But I buy only cars I'd like to keep."
Collecting cars is, after all, his hobby – along with golf.
"He plays with a lot of different people, but we're both members at Red Stick and we get paired together quite a bit," said Rosner, who also has a membership at Quail Valley, where he won the club championship in 2004. "We partner up well."
Photos by: Gordon Radford
Click HERE to see more or buy photos