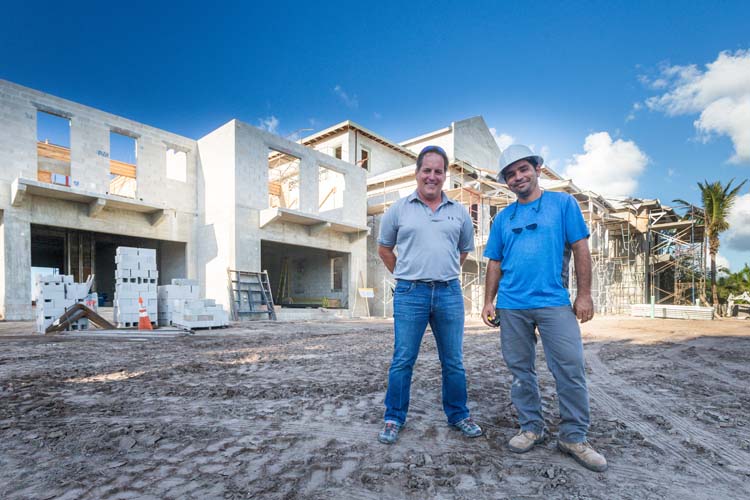 Town homes have been a popular format for new housing on the island and Royal Palm Pointe since building resumed after the real estate collapse, with at least five projects completed or near completion, most of them on the ocean or river.
With townhouses here attracting buyers willing to spend between $1 million and $3 million, developers are scouring the shoreline and even dry-lot sections to find more places to build, but parcels suitable for multifamily projects are hard to come by on the mostly-built-out island, so Joe Foglia has taken the concept south to a picture-perfect location on the Fort Pierce Inlet.
Foglia, owner of Foglia Custom Homes, says William Stoddard, an engineer with Schulke, Bittle & Stoddard, LLC, directed him to the waterfront parcel on the south shore of the inlet, next door to the historic Coast Guard station and near the Square Grouper Tiki Bar.
"I was blown away by the location," Foglia says. "The water was crystal clear that day. You could see right to the bottom and there was a manatee swimming by. I knew there was no land like that, with water like that, available in Vero. I did some pretty quick due diligence and called the owner that same day. We had a deal within a week and closed a month later."
Foglia bought the parcel in June 2015 for $1.45 million and the permitting process for seven 3,000-square-foot, three-story townhouses with deep-water docks proceeded quickly. Because there was an old seawall in place, DEP approval was not required.
"Everything was handled through the city, except for the marina permit, which was St. John's River Water Management, and we had all the building approvals in three months, which is about as fast as it gets," Foglia says.
Financing was harder to come by and the project – dubbed Inlet Palms – languished for much of 2016 until Foglia decided to "pull the trigger," and begin site work on his own dime, installing a new seawall and other infrastructure.
Union Savings Bank then came through with a cash infusion that enabled Foglia and his crews to move ahead with building two triplex concrete-block structures with three townhouses in each building. The shells are now complete and exterior finish work is beginning with a May 2018 delivery date in sight.
The seventh home was eliminated to open up the project, adding green space and more parking.
The luxury waterfront homes have between 3,050 and 3,250 square feet of air-conditioned space, with more than 4,000 square feet under roof. They come with two-car garages and individual deep-water docks that can accommodate boats up to 50 feet long and 17 feet wide.
Each unit has its own elevator, private back yard with pool and spa, and individual access to the marina.
The homes are also energy efficient and highly automated. According to Foglia, "ceilings are insulated with Icynene foam insulation and exterior walls will have foil core foam insulation creating an almost thermos like effect. All lighting will feature the newest technology in LED light bulbs and HVAC units will be installed with extremely high SEER values. All of the mechanical, lighting, security and audio visual systems will be centrally controlled by a Control 4 home automation system."
But the biggest amenity is the location and the unobstructed views of the inlet and Atlantic Ocean. The Fort Pierce Inlet is an ecological and recreational treasure that is flooded twice daily with as much a 10 billion gallons of fresh sea water, rising and falling 4 feet and running gin-clear at high tide much of the time.
Home to dolphin pods, sea turtles, manatees and an abundant variety of game fish and exotic birdlife, the deep inlet channel also sees a steady stream of picturesque marine vessels ranging from charter fishing boats to scientific research ships, coastal freighters and luxury yachts.
For boaters living at Inlet Palms, the Bahamas will be just a few hours away across a 120-mile stretch of blue water.
Three units have been spoken for, with buyers coming from South Florida and Orlando, and three remain, priced between $1.7 million for center units and $1.8 million for end units.
"We will hold those prices for one more sale and then we will have to raise the prices of the last two units," Foglia says. "It is part of our agreement with the bank."