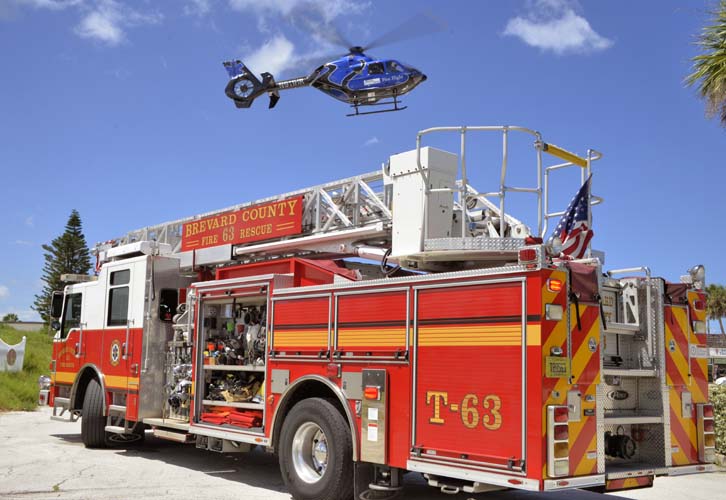 An apparent medical equipment fire Aug. 1 required an Indian Harbour Beach woman to be airlifted to Orlando for facial burns, highlighting the need for extreme caution when using oxygen as a medical treatment.
The Indian Harbour Beach Volunteer Fire Department 56 and Brevard County Fire Rescue 63 responded to the 2:14 p.m. fire at 801 Poinsetta Dr. with Indian Harbour Beach Police also assisting with traffic in the tight neighborhood, said Police Sgt. Matt Jankowski.
When police and fire officials entered the residence they "located a small fire on the living room floor near some medical equipment used to provide oxygen for the resident," according to a IHB police press release on the incident.
The 57-year-old female resident, who was not identified, reported to investigators that she was lighting a match while using the oxygen machine. Police did not address whether or not she had been smoking.
The fire was immediately extinguished by members of Indian Harbour Beach Volunteer Fire Department and caused little damage to the property.
The victim is currently in good health and continues to be cared for at ORMC, officials said.
The air is normally 21 percent oxygen. Oxygen is not flammable, but fire needs it to burn. When more oxygen is present, any fire that starts will burn hotter and faster than usual. More oxygen in the air means that things such as hair, plastic, skin oils, clothing and furniture can catch fire at lower temperatures.
Candles, matches, wood stoves and even sparking toys can be ignition sources and should not be used in the home.
Oxygen cylinders should be kept at least 5 feet from a heat source, open flames or electrical devices.
During the four-year period of 2003-2006, hospital emergency rooms saw an estimated average of 1,190 thermal burns per year caused by ignitions associated with home medical oxygen, with 89 percent of the victims suffering facial burns, according to the National Fire Protection Association.
Simply put, there is no safe way to smoke in the home when oxygen is in use. "To ensure a safe environment for oxygen use, patients should maintain a minimum of 15 feet from open flames and combustibles,"said Matthew Gerrell, vice president of Health First Medical Equipment.
The Indian Harbour Beach Police Department has turned investigation of the Aug. 1 fire over to Indian Harbour Beach Fire Marshall Jim Bliss.