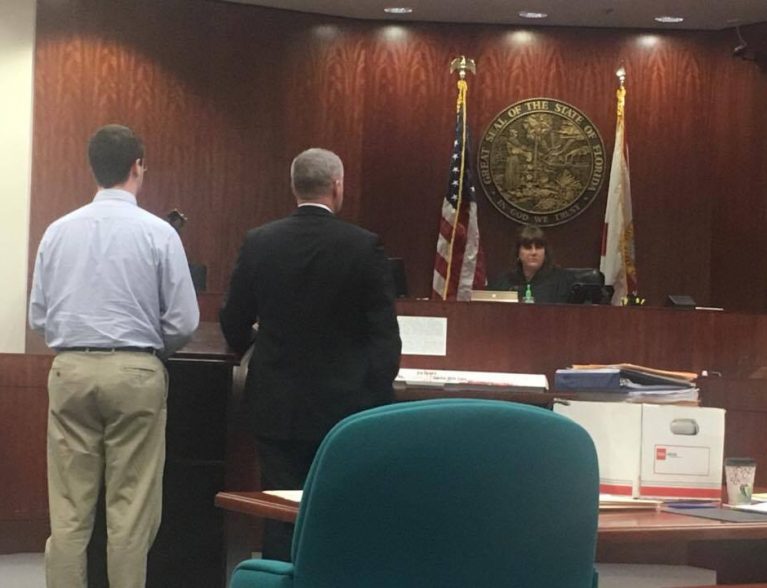 INDIAN RIVER COUNTY — A grand jury Wednesday ruled to indict a Gifford man for the death of his girlfriend who was killed in a drug raid.
In the indictment, Andrew Coffee IV was formally charged with second degree murder for the death of 21-year-old Alteria Woods. He also was formally charged with shooting or throwing a deadly missile, possession of a firearm by a convicted felon and three counts of attempted first degree murder on a law enforcement officer by discharging a firearm.
Alteria Woods was killed in a crossfire between law enforcement officers and Coffee IV at a home shortly before 6 a.m. March 19. She was struck while lying on a bed inside the home in the 4500 block of 35th Avenue in Gifford.
Andrew Coffee IV and his dad, Andrew Coffee III, both lived at the home and were arrested in the drug raid, according to the Sheriff's Office. Coffee IV remains at the Indian River County Jail and is now being held without bond, according to a Sheriff's Office news release.
After the raid, Coffee III was given a variety of drug charges including possession of cocaine, multiple counts of possession of a controlled substance, resisting arrest without violence and possession of marijuana and drug paraphernalia, the release states.
Chris Taylor, state attorney for Indian River County, said the indictment against Coffee IV was based on the fact that Alteria Woods died "in an act of a dangerous felony" that he caused. He declined to speak more about the facts of the case.
The jury, made up of at least 12 people, also ruled a "no true bill" to not indict two deputies and an officer who fired their guns during the raid. Taylor said the jury found "no probable cause" to indict one or more officers.
The three law enforcement officers who fired gunshots during the raid, Sgt. Patrick White Detective Christopher Reeve and Officer Richard Sarcinello, were originally put on administrative leave after the raid. All have since returned to work, Sheriff's Maj. Eric Flowers said.
Sheriff Deryl Loar said the death of Alteria Woods is a tragedy they will seek justice for.
"Today was the first step in pursuit of that cause, with Andrew Coffee IV being charged with her murder," Loar said in a news release. "Had he not fired upon our deputies during their lawful attempt to serve a search warrant, Alteria would be alive today."