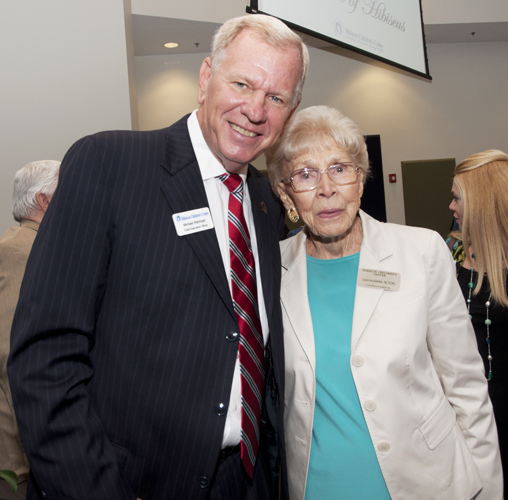 Saving one abused or neglected child after another has been the mission of Hibiscus Children's Center for the last 30 years.
And that mission started when a Jensen Beach woman was stirred by a video of mistreated children she saw during a training session for an organization she was volunteering for at the time.
"I asked, 'What happens to those children? Is there anywhere that is safe where they can be moved to?'" recalled LaVaughn Tilton. The answer was no, maybe to a relative or neighbor's house. I was just amazed. That gave me the idea."
With that, Tilton and her late husband, Ransom, began brainstorming and solicited the Jensen Beach Church for a donation of land on which to build a shelter for children in need. A construction company donated materials and management of the project, contractors donated labor and volunteers stepped up. Tilton was pleased with the $3,000 raised at the first fundraiser in 1985.
At the time, there was nowhere for these children along the Treasure Coast to go, and Tilton learned that the local government agency overseeing children and families received hundreds of reports of abused children each month. As the word spread about this problem, so did the generosity.
"Then volunteers came out and offered to help," Tilton said. "So many people became interested in creating a safe place for children. So many people were so supportive. It was miraculous."
The center's facilities, staff and programs grew rapidly. "It's beyond anything we ever dreamed," she said.
A single shelter with 12 beds in Jensen Beach called Hibiscus House opened in 1989. It was an emergency refuge for children removed from their abusive homes and the first of its kind on the Treasure Coast.
The shelter was expanded to 36 beds, and has provided 170,000 safe nights of service to Treasure Coast, Okeechobee and Palm Beach County children, newborn through age 12.
Children at Hibiscus House got supervision, nursing and therapeutic treatments as well as bedtime stories, playground time and exposure to music, arts and books. Over the years, Hibiscus established additional programs for educational, medical, mental health and clinical services, and now has services for children from the cradle to age 18.
Today, Hibiscus operates in five locations in the four counties. In Vero, Hibiscus Village opened in 2004 and offers group homes, a campus center and a recreation area for abused, neglected and abandoned children ages 12 to 18. Altogether, 350 volunteers and 145 staff provide services. It takes about $7.5 million each year to run Hibiscus Children's Center.
A celebration marking the 30th anniversary of Hibiscus took place last week in Fort Pierce.
"If I have a tough day at the office, I reflect on these kids," said Hibiscus CEO Michael Waninger. "They've had it 10 times harder."
Domestic abuse, sexual abuse or a parent sent to prison are among the circumstances that bring children to the center. Some transitions are abrupt and traumatic, especially when the child is at imminent risk at home.
"These kids were sometimes taken out in middle of night from family, clothes thrown in trash bag, brought to us," said Clay Price, a board member and volunteer for over 10 years. "What a horrific experience for a youngster."
But they come to a safe haven, where professionals can give such children psychological evaluations and tutoring to help them with schools as well as their basic necessities, and more. "Sometimes these kids have never been to a dentist, not to a prom, not to an optometrist," Price said.
The goal is to reunite children with their families or relatives if a healthy relationship is possible, find them adoptive or foster parents if they shouldn't go back home, and help older ones transition into independence and adulthood.