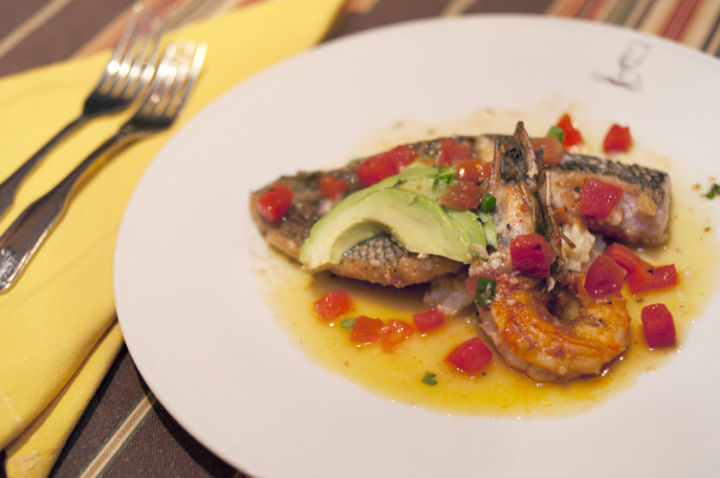 VERO BEACH — Hardly a day goes by that I don't get an email asking, "What's the best restaurant in Vero?" I always demur; there are too many variables and matters of individual taste to anoint one of the top five or so restaurants as "the best."
But when a friend recently asked where I'd like to dine, the restaurant I chose was Mimmo's Scampi Grill, which has been serving first-rate Italian fare seemingly forever in a nondescript building a bit off the beaten path in Vero's old downtown.
Located across 11th Avenue from the now defunct Patio, this trattoria – very attractively decorated on the inside, and featuring the art of chef/owner Mimmo on the walls of the rest rooms – has long been a favorite of beachside residents.
When we arrived shortly before 7:30 on a recent Tuesday night, we found a warm and energetic dining room packed with guests.
This was a Tuesday, mind you!
Mimmo, who now largely leaves presiding over the kitchen to his son Chef Alex, quickly ushered our party of three to the only available table, and one of the restaurant's very attentive servers took our drink order and was back in seconds with a bottle of a moderately priced wine.
For starters, I ordered the mozzarella caprese ($8.95), our companion chose a Caesar salad ($6.95) and my husband went with the evening's special oyster appetizer ($12.95).
While the salads, as expected, were excellent, the oysters can only be described as divine – beautiful plump oysters, each on bed of baby spinach, topped with a roasted pepper tri-color cream sauce.
Then for main courses, I ordered the evening's sea mix special ($27.95), my husband opted for the veal saltimboca ($22.95), and our companion went for the angel hair puttanesca arrabiata ($16.95).
The sea mix special was a sight to behold – a dish chock full of seven kinds of seafood including large prawns, sea scallops, calamari, clams, mussels, lump crab and chunks of grouper, all in an extremely light, perfectly spiced fra diavolo sauce made with fresh tomatoes.
The angel hair pasta was equally well prepared with calamita olives, infused olive oil, roasted garlic, red chili pepper, roma tomatoes, capers, anchovies, and fresh Italian herbs.
The veal saltimboca was a perfect rendition of this classic dish, the veal layered with sliced prosciutto, fresh mozzarella and wild mushrooms, in a sage cream sauce.
All of the sauces at Mimmo's are very light, made from the freshest ingredients.
While we did not have any of the shrimp entrées on this visit, I would surely be remiss were I to fail to note that the shrimp dishes here are wonderful.
Whether the scampi, the shrimp con broccoli, the shrimp al frunghetto, or some other preparation, we have never had a shrimp dish here we did not love.
No question that the Scampi Grill is the place for scampi.
For dessert on this evening, we decided to share a plate of Mimmo's special fried Italian fritters – deep-fried fritters served with a hazelnut chutney topped with wild berries ($6.95).
In the past, we also have enjoyed the lemon mascarpone cake – a great way to end the meal.
Dinner for two with a modest bottle of wine, before tax and tip, is likely to run you $100 to $120.
As we were leaving, we passed the table where another 32963 foodie, Michelle Genz, was dining.
She, too, raved about the oyster appetizer, and said she had ordered the evening's fish special, a pistachio encrusted trout.
The trout was extremely moist, she reported, and adorned with a single artichoke heart. With another heart atop the accompanying angel hair pasta and parsley, the artichokes added just enough acidity to lighten the rich sauce.
Her verdict on the dish: irresistible.
Is this Vero's best restaurant? Let me just say that at the moment, it seems to be at the top of its game – and it is certainly one of my personal favorite places to dine.
I welcome your comments, and encourage you to send feedback to me at tina@verobeach32963.com.
The reviewer is a beachside resident who dines anonymously at restaurants at the expense of Vero Beach 32963.
Left: Black sea bass with jumbo prawns in a tomato lemon butter sauce, Right: Pistachio truffle dessert. PHOTOS BY LEAH DUBOIS
Blueberry and apple salad.