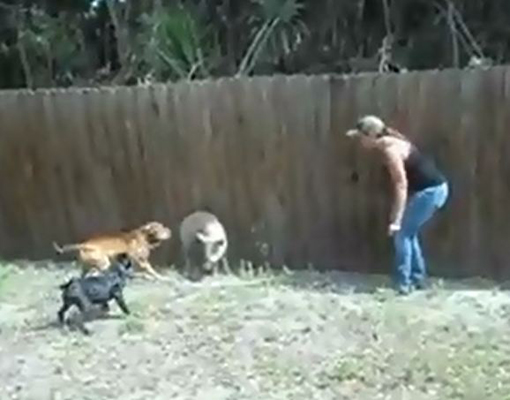 INDIAN RIVER COUNTY – A mother-daughter pair has bailed out of jail on $10,000 bond, each facing two counts of felony animal cruelty in what Sheriff Deryl Loar is calling the worst case of animal abuse the county has seen in some time.
The women were arrested at their home west of Vero Beach on Wednesday after more than a month-long investigation that started with Facebook. According to the Sheriff's Office, someone provided a disc containing a video that had been posted on a private Facebook page, effectively tipping off investigators. The tipster played the Facebook video and videotaped the computer screen showing the video.
Due to the "private" nature of the page, investigators worked to secure a search warrant and worked with Facebook's corporate offices in California to release the identity of the page and gather more data on the person.
"They were cooperative," Detective Luke Keppel said of Facebook.
That person was identified as Ashley Ramirez, 21, of the 2300 block of 84th Court, who is seen on the video goading two dogs into attacking a pig.
The pig's snout was bound and legs hobbled to make it difficult for the pig to defend itself.
"This is horrific," said Sgt. Nancy McNally of the video and the case.
Also arrested was Ramirez's mother, Janice Ramirez, 55, of the same address. Both she and her daughter can be heard on the video egging on the dogs to attack the hog.
At one point in the video, one of them calls it a "massacre." They can be heard giggling and laughing about the hog's leg or legs being broken.
"Did you hear that crunch?" one of them asks the other.
According to investigators, the Ramirez women said they had planned to kill the pig anyway and took it as an opportunity to "train" their dogs to hunt the pig.
"There's nothing sportsman-like" about what is seen on the video, said Ilka Daniel, Director of Animal Protective Services of the Humane Society of Vero Beach and Indian River County.
"There is no justification for this," Sgt. McNally said.
"It's extremely alarming," Daniel said of the lack of empathy and compassion shown toward the hog.
Daniel also noted that the dogs showed a reluctance to pursue the hog at the start of the video and said they only did so to please their owners.
The dogs have been placed in the care of Janice Ramirez's ex-husband, as have the other animals found at the home. Those animals included 10 pit bull puppies and a Chihuahua.
As for the video on Facebook, Det. Keppel said it had approximately 40 comments on it – some expressing negative reactions to it, others more supportive.
The State Attorney's Office has approximately 21 days to file formal charges against the Ramirezes. If convicted, they each could serve up to 10 years in prison.