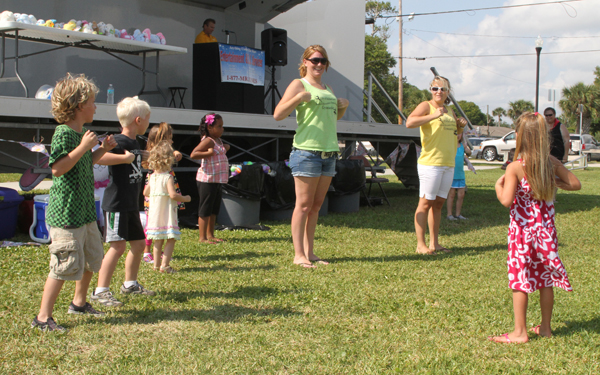 SEBASTIAN – A few hundred kids lined the edges of their assigned Easter egg field, anxiously awaiting the word "Go!"
"She wants that orange egg so bad," 2 ½-year-old Hannah's mom, Brittany Quinn said while trying to pull Hannah back to outside of the field.
The orange plastic egg was the closest to Hannah and the object of her rapt attention until the countdown to begin the hunt.
"We've been training her," Quinn said, chuckling.
Eight-year-old Ciara White wasn't as laser-focused on any particular egg. She said she had not really thought about which ones she would grab – just as many as she could.
"We look forward to this," Ciara's dad, Houston White, said, adding that this was the third time the family's come out to the park for the hunt.
"It's nice," Ciara's mom, April Reeves, said.
As the children waited for the hunt to begin, many swung their baskets, picked at the grass, and be-bopped to the music, trying to pass the time without getting into trouble.
Along with traditional white woven baskets, children toted beach buckets, reusable shopping bags, and even Halloween pumpkin buckets.
Among the most unique was 11-month-old Reaf Lustic's basket. His dad took coconut palm leaves and wove them into a green "green" Easter basket.
Reaf's mom, Jenny, said she was impressed with the Sebastian Easter Egg Hunt, explaining that the way it was laid out made it easy for the first-timer to find where Reaf would hunt eggs.
"I think it's great," Lustic said of event.
The moment the M.C. announced the hunt could begin, the children at each of age-defined fields dashed in, snapping up as many eggs as possible before they were all gone.
It only took moments.
"I got a lot," 4-year-old Emma Fullington said, while picking through her eggs for candy.
She and her brother, Dominic, 6, and their parents, Tammy and Nick Fullington opened the eggs they had collected in search of a special ticket.
If found, the ticket would allow certain lucky kids receive a special stuffed animal prize. Though not all kids got a special prize, they did go home with plenty of sweets.