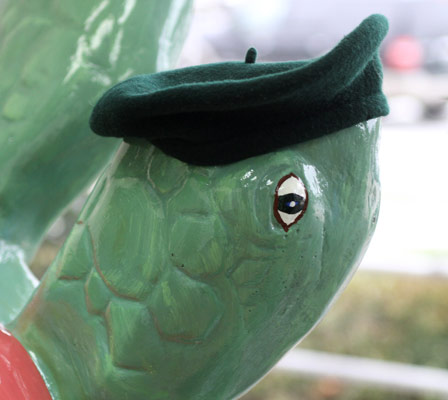 During assignments there's a lot of hurry up and waiting involved. So, to fill the time I always try to look for those photos that make me laugh.
Two that I've picked are from a Vero Beach City Council meeting and a recent discussion from a joint pain seminar.
Neither of those sound to funny, but you just have to keep your eyes open.
The meeting about council meeting was at Vero Beach City Hall where someone decided to play dress up with the turtle.
The next photo was an unexpected moment from Hall-of-Fame Catcher Johnny Bench when he patted one of the audience members on the head. I personally enjoyed seeing Johnny Bench in Sebastian. I grew up watching the Reds when I lived in the greater Cincinnati area. Though I missed maybe the best team the Reds ever had when Bench was playing, that didn't stop my parents from telling me about them.
A lesson to be learned here is that you never know when something's going to happen so don't waste time when you don't have to or the moment will disappear.