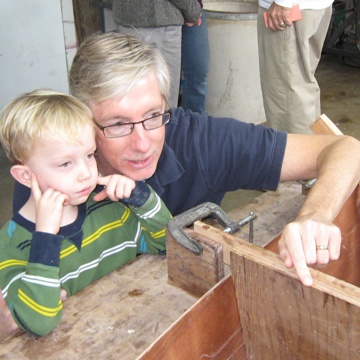 VERO BEACH – The Youth Sailing Foundation spent part of Monday with doors wide open to the boathouse they operate out of at the Vero Beach Municipal Marina, welcoming the public to check them out.
"It's been a zoo," said board chair Charlie Pope. "It's been really, really busy." To feed the masses who turned out to the open house event, supporting business West Marine donated 20 Little Caesars pizzas, which several children chowed down on at lunch.
"It's just fun," said 13-year-old Yaelle Olivier, a 1-year member of the Youth Sailing Foundation.
Cody Lanier, 9, agreed, adding that the most fun part of being a member is capsizing the boat.
"Maybe for you!" retorted 14-year-old Michael Livingston, a member of just a few days. "The water's cold."
Cody's brother, 12-year-old Noah, and he have been members for about four months.
"It's good to try it for a day," Noah said of checking out the group.
"It gets more interesting with more experience," Yaelle added.
Pope said that the Youth Sailing Foundation currently has a youth membership of about 20 kids.
"It's growing by leaps and bounds," he said. "It's going absolutely bananas."
In March or April, the organization will turn 2 – and Pope knows what he wants the foundation to be when it "grows up" – Jensen Beach.
"Jensen Beach has a wonderful program," Pope said, noting that the other group boasts 60 children and hosts regattas, in which the Vero Beach club's members have competed.
The Vero Beach Youth Sailing Foundation has also participated in regattas in Palm Beach, Fort Pierce and Melbourne – but none yet in Vero Beach.
"We're coming along," Pope said on that project.
One of the hold-ups had been having the necessary buoys – which someone has donated. Now they just need someone with the expertise in running a regatta, and they could host their own.
Youth members range in age from 7 to 15 and work with adults to build their own boats – an Optimus Dinghy.
The boats come in kits of pre-cut lumber, which the children place in a jig to assemble. Once assembled, they place fiberglass cloth in the interior, sealing the boat, and "tomorrow, you've got a boat," Pope explained.
It takes about 40 hours from start to finish to complete a boat and the kits cost about $1,600.
Through the community's generosity, Pope said 14 boats have been donated for children in the Youth Guidance and Boys and Girls Club programs.
The Youth Sailing Foundation is a non-profit organization that relies on volunteers and financial contributions from the community to stay in operation.
For more information about the Youth Sailing Foundation, visit www.ysfirc.org.
The photo in this article was taken and submitted by Theresa Livingston.