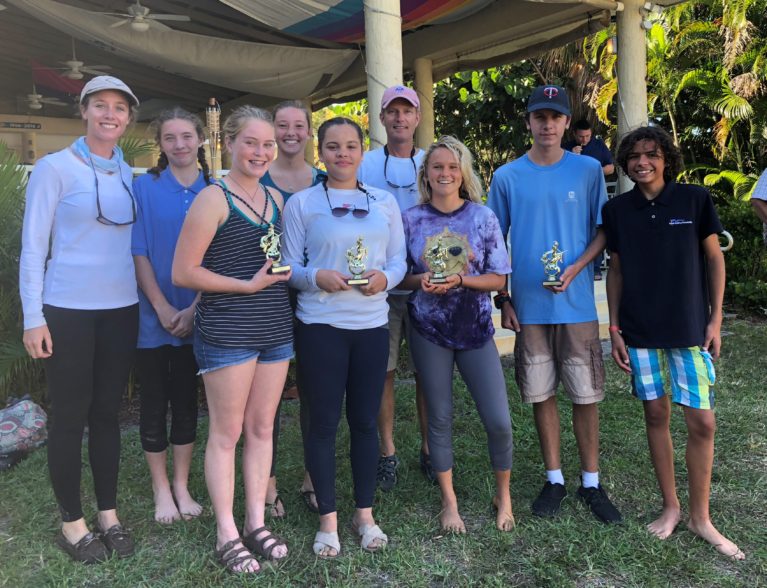 Photo provided by Youth Sailing Foundation of IRC
Youth sailors battled gusty winds and rough seas last week while competing in the Regatta racing competition, where Skipper Nita Holloway and crew member Cate Lovelady, of Vero Beach High School, ranked first place, officials said.
The sailors from the Youth Sailing Foundation of Indian River County competed in Palm Beach Sailing Club's Fall Festival Regatta Oct. 28 in Palm Beach County. The PBSC hosts a variety of sailing events, including the "Son of A Beach Regatta," which is held the last Sunday of each month on the Intracoastal Waterway, authorities said.
Officials said 19 two-manned boats with a captain, or skipper, and crew member battled in a series of races while enduring challenging conditions.
Two other entries from YSF's 420 class also made their mark in the highly competitive races. Skipper Mylee Smith and Crew Member Jacob Gingras earned third place and Skipper Sydney Ohs and Crew Member Kate Bounassi ranked in eight place, officials said.
The event had a great showing all around for the Vero Beach varsity sailing team. But, things did not go so smooth for elementary and middle school sailors.
The sailors battled strong currents, high waves from boat traffic and sharp winds, officials said. Only five sailors out of the 40 competitors successfully finished all five races.
Despite setbacks with teachable moments, the youngest sailors kept a positive attitude and gained valuable experience, officials said.
"The unpredictability of weather and competition is one of the facets of sailing that makes it such a worthwhile endeavor in the cultivation of young minds and characters," the YSF said in a statement. "Besides learning practical boating skills and enjoying outdoor activity, these kids are developing and sharpening their decision-making capabilities and other valuable sensibilities in a unique and exciting way."
The YSF will hold its own "Veterans Day Regatta" this upcoming Sunday, Nov. 11 at its location, 17 17th Street, officials said.
The foundation is a non-profit organization that gives free instruction to engage local children to enjoy the challenge of sailing. The non profit serves about 150 children a week, officials said.
Those who want more information, want to volunteer or donate should contact YSF at 772-492-3243 or visit the organization's website.