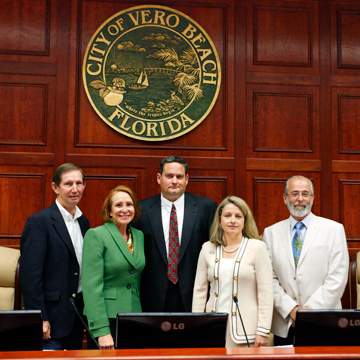 VERO BEACH — Newly sworn in Vero Beach City Council members Jay Kramer and Pilar Turner have been selected to lead the council as Mayor and Vice Mayor with a pair of 4-1 votes.
After taking about 20 minutes of public comment, the new Vero Beach City Council voted by ballot who they wanted to be Mayor and Vice Mayor. The vote for the two positions came after Councilman Brian Heady pushed that they vote by ballot instead of taking the vote in the order of the nominations – as prior councils have done. He expressed concern that such a vote would give an undo advantage to nominees.
Tracy Carroll, who was nominated for Mayor and then for Vice Mayor voted for herself on both questions.
Heady was not nominated for either post, though he kicked off the nominations for mayor.
"Somebody say something," Heady said prior to the nominations. "I'll take the job if nobody wants it."
Turner nominated Kramer for Mayor and Carroll nominated herself.
"I feel it's imperative this council project a sense of civility," Carroll said before the floor was opened to the public for input. Going forward, Carrol added, that she would expect staff to follow suit with civility, competency and provide necessary documentation.
Though the public was allowed to speak and make their recommendations known, several chose not to name their preferred mayor.
Former Councilman Charlie Wilson led off the public discussion, saying that the election showed that the voters spoke "loud and clear" twice that they want unity on the council.
He said that it is not as important who is mayor as it is for five people "pulling the same wagon" – what's best for the city's residents.
Heady disagreed, pointing to the most recent former mayor, who, he said, shut down both the public and council members.
"There is no one in this room that has fought for the public's right to speak more than I have," Heady said. "And there's no one in this room that has defended the council members' rights more than I have."
Wilson said that he agreed that input is necessary and that he meant it is important for the council to work for the citizens.
Other members in the public simply urged the new council to do right by the voters, to resolve the utility issues that they ran on and wished them luck.
Utility activist Glenn Heran told the council that as important as the utility issues are, they "pale in comparison" to Freedom of Speech. He said that allowing open, public debate is a necessity and lent his support to Heady being mayor, though Heady was not nominated.
"Because we did not have (public debate) is why we're in the boat we're in today," Heran said.
Residents Russ Johnson and Frank Zorc also expressed their support of Heady during the public discussion.
After taking the public's input, the council decided on the method they would use to vote on the top posts and cast their ballots.
The council then took a break for photos and then reconvened to discuss seating arrangements, committee appointments and other city-related issues.