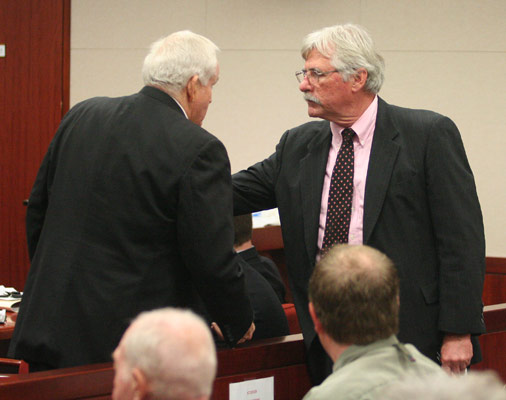 INDIAN RIVER COUNTY — Twenty-three-year-old Christopher Wilson will spend the next four years of his life in a state prison and five years after that on probation after pleading no contest on a host of charges, including ballot fraud.
Wilson, the son of failed County Commission candidate Charlie Wilson, faced a maximum of 50 years in prison on the charges against him.
"It could have been a lot worse," the elder Wilson said outside the courtroom.
The younger Wilson's attorney, Robert Stone, said that his client was satisfied with the 4-year plea deal.
"He owned up" to the charges, Stone said. "He made a mistake."
"You won't see him in court again," Stone added.
Wilson was charged earlier this year with ballot fraud after forging signatures on campaign petitions.
The Florida Department of Law Enforcement's investigation revealed eight petitions that Wilson had forged.
"One is too many," Charlie Wilson said.
Both the older Wilson and Christopher's mother were in the courtroom when Judge Robert Hawley considered the plea deal.
"They don't choose to speak to the court," Stone said, addressing Judge Hawley. "But they want the court to know they support him."
Just moments before sentencing, Christopher Wilson addressed the court.
"I just want to apologize to my victims," he said, adding that he also wanted to apologize to Indian River County and his family – "That's who I hurt the worst," he said.
"I understand that I did wrong," Wilson said, adding that he wishes he would have done things differently.
Along with the petition forgery charge, Wilson faced several charges in other cases, including burglary, theft, fraud, forgery, making a false official statement, and violation of probation.
Judge Hawley accepted the plea deal.
"Good luck Mr. Wilson," he said.