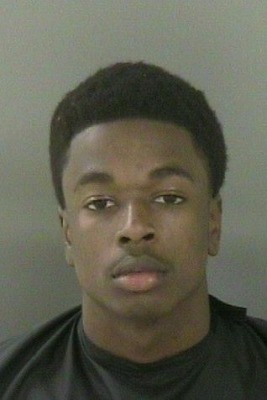 GIFFORD – Two of the four suspects involved in a stolen vehicle pursuit and shoot-out with an Indian River County deputy have been identified as 18-year-olds from Brevard County.
The other two suspects are juveniles and have not been identified.
Assistant Fire Chief Brian Burkeen identified one of the juveniles as a 17-year-old who had been shot and was flown to Lawnwood Regional Medical Center for treatment.
The incident occurred shortly after 1 a.m. Sunday at the 7200 block of 49th Street.
According to arrest affidavits released by the Sheriff's Office Monday, the two adults arrested were Arvaughn Baker, of Melbourne, and Johnny Marion Lee Jr., of Palm Bay.
Both face a misdemeanor charge of resisting arrest without violence. Baker has been released from the county jail on $500 bond, while Lee remains in jail with the same bond amount.
Initial reports from the Indian River County Sheriff's Office stated that all four suspects in the stolen vehicle shot at a deputy during the pursuit. However, the released arrest reports do not indicate any shots were fired.
Initial reports, also, did not indicate the stolen vehicle crashed, though the arrest reports state that the vehicle crashed and the suspects fled.
K-9 units were brought to the scene to search for all four suspects, according to the arrest reports.
Lee and the two juveniles were bitten by the canines after failing to comply with deputies' commands, the reports state.
Baker, according to the reports, struggled with deputies before they took him into custody.
The deputy who fired shots at the suspects has yet to be identified. The Florida Department of Law Enforcement is investigating the shooting.
The status of the deputy is not immediately clear.
Sheriff's Director Jeff Luther said it is standard operating procedure for deputies involved in shootings to be placed on paid administrative leave pending the outcome of the investigation.
He could not say if the deputy in question had been placed on leave.
A message left for the Sheriff's Office's legal counsel was not immediately returned Monday afternoon.