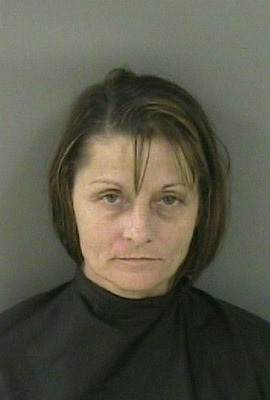 INDIAN RIVER COUNTY — A Florida west coast woman was arrested after authorities say she tried passing a forged check on a fake bank account for $286 worth of groceries, gift cards and cigarettes at a Publix grocery store.
The store credits its employee's adherence to policy for thwarting the would-have-been theft. Publix requires the proof of identification when customers buy large amounts of gift cards or tobacco products.
When the employee asked the would-be thief for identification, the woman showed her driver's license but refused to take it out of her wallet.
The employee pushed further to see the license, at which time the woman – later identified as 46-year-old Tara Combs Caron of Port Richey, Fla. – fled, leaving behind the merchandise and dropping her wallet in the parking lot, the Sheriff's Office said.
Caron, according to authorities, had tried to write out a check with another name. Authorities contacted the bank and asked about that named account. The bank informed the Sheriff's Office that no such account exists.
Working off surveillance videos and credit cards found in the suspect's wallet, led deputies to the woman's true identity.
Caron is being held at the county jail in lieu of $26,000 bail. She faces charges that include two counts each of felony forgery and felony uttering a forged instrument, felony worthless check over $150, and misdemeanor unauthorized use/possession of driver's license or identification.