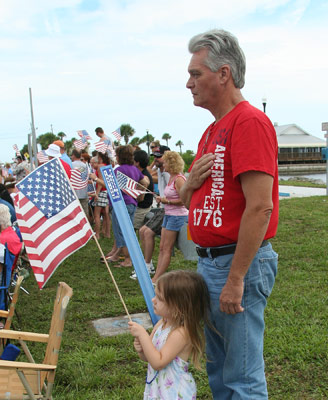 SEBASTIAN — Riverview Park turned into the place to celebrate the Red, White and Blue as the Freedom Festival took place Saturday with lots of live music, hot dogs and funnel cakes and plenty of vendors selling everything from homemade jewelry to kayaks.
The one-day-early Fourth of July extravaganza kicked off at 7 a.m. with the "Compete to Defeat Drug Abuse" 5K run.  It was set to end in the evening with a fireworks show.
The race was followed by the 40th Annual Fourth of July Parade. Businesses and organizations, such as Meek's Plumbing, The Women's League, Girl Scouts, Mike's Records and Mallory's Landscaping, entered floats into the parade. The floats were followed up by two women carrying an American flag,
"It's moments like this that make me proud, not only to be an American, but also to be a member of the Sebastian community,"  said Chuck Briley.
The sounds of electric guitars, a saxophone and drums could be heard all over the park. The live entertainment came from Bobby Coleman and the Coolers who featured R &B songs such as "Mustang Sally."
Handcrafted African animals could be found at one table. Mamaeou, originally from West Africa, said that one of his creations takes about three hours to complete.
"Anything that brings me money is my favorite," Mamaeou said.
The festivities were set to go on all day and lots of children were running around to take part in as many activities as possible. Many of the children could be seen riding ponies or painting plaster ornaments, but Tristan Alderton dared to take a ride on the mechanical bull.  His grandmother thought he lasted about five minutes.
Many people had booths where they were selling hand-crafted jewelry, hats and even life insurance.  Dorinda Walker was attracting interest at her booth where she was selling hula hoops.
"You're playing your way to fitness,"  said Walker, who makes her own hula hoops and teaches classes to  people as young as 6 and as old as 62.