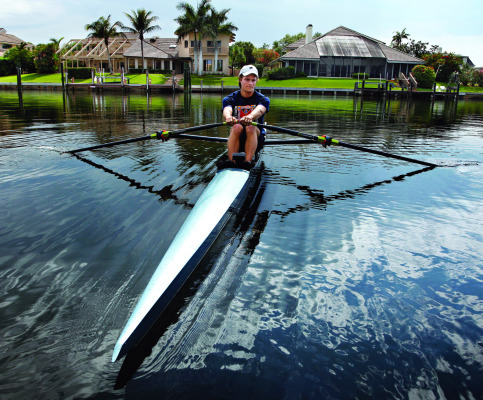 VERO BEACH — It's hard for any parent to imagine not one, but two of their high school children bringing home a state title on the same day.
A St. Ed's brother and sister duo did exactly that at the Florida Scholastic Rowing Association state championship tournament in Sarasota last month, leaving parents Jim and Debbie Kappel in a rare state of double euphoria.  
 Hunter Kappel, a senior at St. Ed's, ostensibly stole the show by winning the gold medal in a boys single after a spectacular recovery from a boat flip during a qualifying race.
But certainly not to be lost in the drama was the equally impressive performance of his sister, Sarah. Though completing just her sophomore year at St. Ed's, Sarah Kappel teamed with Juliana Schmidt – a junior at Berkeley Prep in Tampa – to capture the state title in a girls double.
As far as the rest of the field was concerned, their boat was aptly named "Double Trouble."
Remarkably, the 1,500 meter race was just Sarah Kappel's third competitive event in a double.
As Sarah Kappel recalled, "We were scared before the race because everyone else was so big (physically). We didn't know exactly what to expect. When the race began we started rowing faster and getting more confident. When we passed the finish line, we were shocked and really happy. It was very special."
Sarah's contribution to the magnitude of the weekend was described by her mother. "It was total excitement and there were tears of joy for everyone," Debbie Kappel said. "To see them a boat length ahead at the finish line was overwhelming. It was a lot to take all in one weekend."
Sarah and Juliana managed to overcome the early pangs of intimidation, in part due to superb physical conditioning. "At the end of the race, the girls were hardly out of breath at all," Debbie noted. "You could see the other rowers struggling."
Jim Kappel was especially proud of his daughter's accomplishment at such a young age. "Sarah is a sophomore and there were juniors and seniors in the race," he said. "And she and her partner beat them all. I think that's quite a feat."
That, of course, points to the discipline and sacrifice required to succeed at such a high level. Sarah maintains a training regimen similar to that of her brother, working out on the water and with the rowing machine a combined two hours per weekday, much more than that on weekends.
Their mutual love for the sport has strengthened the bond."My brother started rowing first and that got me interested," she explained. "When I saw him racing and starting to win, I really wanted to do it. He taught me how to do it."
Hunter Kappel apparently taught his sister how to do it extremely well.
"I love working out with Hunter," Sarah said. "We get along so well. He shows me all of his techniques (e.g. using the legs proficiently and the value of the 'power ten' strokes), so I can train better and be more efficient."
Sarah and Hunter Kappel share an affinity for academics as well. She was inducted into the National Honor Society in a ceremony at St. Ed's on April 30th.
"I want to be a veterinarian," she declared.
She takes all honors or college prep courses and has accrued 200 hours as a volunteer at the Florida Veterinary League and at an animal hospital in Vermont. Dartmouth and Cornell were mentioned as desired college destinations.
On the hobby front, Sarah Kappel's album full of ribbons and awards attests to her skill as a photographer. One of her photos graces the cover of a school magazine. Her favorite subject is wildlife.
Sarah Kappel formerly rowed in an eight boat with the St. Ed's crew team, but switched over to the double under the banner of the Tampa Training Center.
St. Ed's head coach David O'Donnell expressed his appreciation when Sarah Kappel attended a practice near the end of the season to offer tips on various techniques.
The family was not able to enjoy the state championship sensation for very long, however, because two short weeks later it was back to Sarasota for the southeast district youth championships.